google5993c5666b5daeec.html

How to Use the Walking Foot, Buttonholer, Ruffler and Zig-zagger




ATTACHING THE WALKING FOOT, FREE MOTION/DARNING FOOT,
BUTTONHOLER, RUFFLER, ZIG-ZAG ATTACHMENT
and OTHER ATTACHMENTS
WHICH ARE ACTIVATED BY THE NEEDLE BAR CLAMP/SCREW.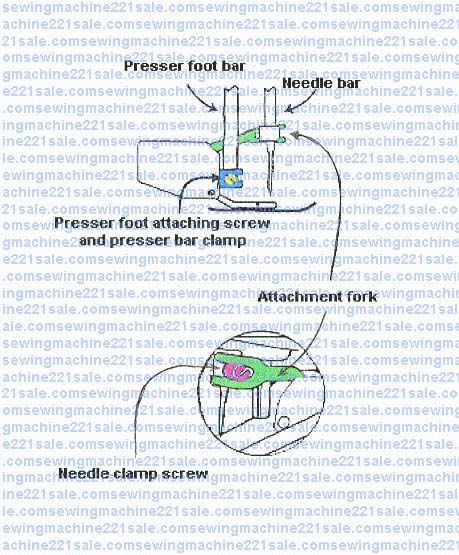 Read ALL instructions before attaching:



(1.) Remove existing presser foot and shank.

(2.) With the presser bar/lifter in the highest position guide the attachment into position from the rear of the machine.

(3.) Align the presser bar clamp (blue) of the attachment to the presser foot bar, at the same time position the attachment fork (green) so it straddles the needle clamp screw (pink).
NOTE: Some machines may require a different/or longer needle clamp screw.

(4.) Now secure the presser foot attaching screw (yellow).


NOTE: You may find it advantageous to remove the needle while aligning the attachment.


Please check our web site for the walking foot designed for your particular model.
Additional instructions will be provided with the item when it is shipped to you.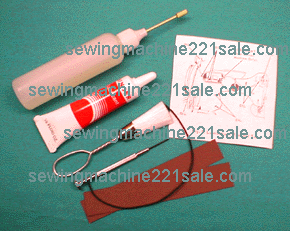 Operator Maintenance Kit
$12.95
*High quality oil in refillable extendable spout. Long neck spout style of oiler #NK2 may vary depending on availability.
*Lubricant for gears
*Lint brush
*Extra fine quality screw driver for tension adjustments
*2 strips of crocus cloth for removing burs on hook, etc.
*6" abrasive cord #52 for removing burs in and around needle plate, etc.
*Oil and lubricant instructions pamphlet for various models
ADD BASIC S&H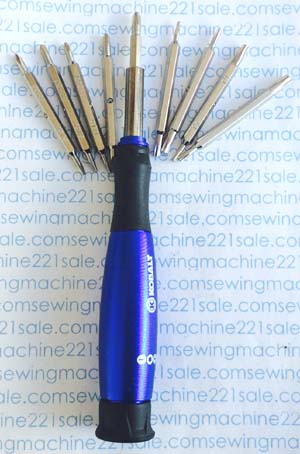 Mini Precision Screwdriver Set (Bin T-4)
$9.95
Small compact set includes compact bit holder or store bits in handle
Set includes: Slotted: 1/8", 3/32", 5/64", 5/64", 1/16"
Phillips: PH000, PH00, PH00, PH0, PH1
Torx star: T4, T5, T6, T7, T8, T9, T10, T15
ADD BASIC S&H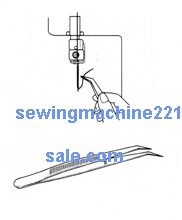 Tweezers #TWE6
$3.95
Top quality tweezers with guide pin
6" long with bent point design.
The best tool in your accessory box. Ideal for threading needles on sewing machines and needles and loopers on sergers. Many other practical sewing uses: removing thread and lint build-up from small areas in the sewing machine, pulling out unwanted stitches, etc.
ADD BASIC S&H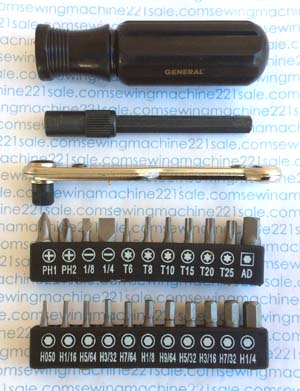 Small Tools, Driver Set with Offset Ratchet (Bin-T-1)
$17.95
Sewing machine and other small appliances require different tools than your car or home
This set is a great place to start
Set contains one each: reversible ratchet handle, spinner screwdriver handle, 3 1/4" extension handle
One each of the following bits
Slotted screwdriver: 1/8", 1/4"
Phillips screwdriver: PH#1, PH#2
Hex: .050", 1/16", 5/64", 3/32", 7/64", 1/8", 9/64", 5/32", 3/16", 7/32", 1/4",
Torx: T6, T8, T10, T15, T20, T25
ADD BASIC S&H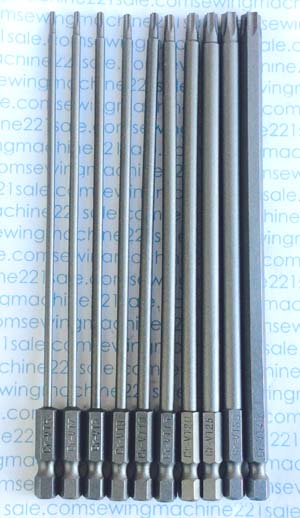 Torx Bit Set 5" Long with Thin Shaft (Bin T-2)
$16.95
Sewing machine and other appliances require a long thin shaft for getting into confined areas
5" long with a standard 1/4" hex shaft
Set includes one each: T6, T7, T8, T9, T10, T15, T25, T30, T40
ADD BASIC S&H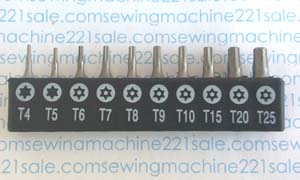 Torx Bit Set Small (Bin T-3)
$13.95
Hard to find Torx bits, standard 1/4" hex shaft
Set includes: T4, T5, T6, T7, T8, T9, T10, T15, T20, T25
ADD BASIC S&H





Email: sewingmachine221sale@pop.bizland.com
This web site is owned and operated by:
Discount Sewing Machine Service ©2000
Site contains material that are trademark TM and servicemark SM.
All material is for personal use only and is not to be mass produced.
Pages constructed and maintained by Kas