google5993c5666b5daeec.html

Caution: 221 Featherweight Owners



It is important for operators to perform periodic general cleaning and oiling on their sewing machines. In some cases this requires removing the top and bottom covers, face plate and needle plate. This allows access to areas other wise not accessible. The replacing of those items is normally the same as the removal. However on the Singer 221 Featherweight and the Singer 301 there is a caution to be concerned about.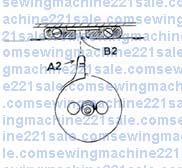 On page 12 of most 221 manuals there is reference
to this caution. It states: "make certain when
replacing the throat plate, that the position
finger "A2" of the bottom case base enters the
notch "B2" of the position plate which is
attached on the under side of the throat plate.





Failure to follow this caution could cause serious damage to some very expensive parts located in this area.

If you are not comfortable performing this or any adjustment take your machine and control to your local dealer.
Go to this link for221 Featherweight parts.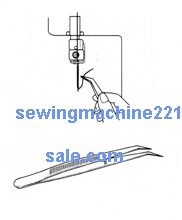 Tweezers #TWE6
$3.95
Top quality tweezers with guide pin
6" long with bent point design.
The best tool in your accessory box. Ideal for threading needles on sewing machines and needles and loopers on sergers. Many other practical sewing uses: removing thread and lint build-up from small areas in the sewing machine, pulling out unwanted stitches, etc.
ADD BASIC S&H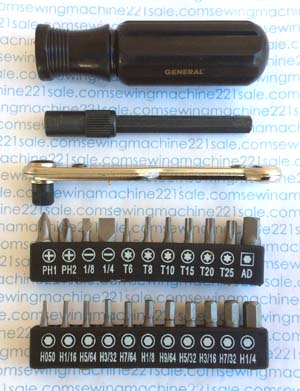 Small Tools, Driver Set with Offset Ratchet (Bin-T-1)
$17.95
Sewing machine and other small appliances require different tools than your car or home
This set is a great place to start
Set contains one each: reversible ratchet handle, spinner screwdriver handle, 3 1/4" extension handle
One each of the following bits
Slotted screwdriver: 1/8", 1/4"
Phillips screwdriver: PH#1, PH#2
Hex: .050", 1/16", 5/64", 3/32", 7/64", 1/8", 9/64", 5/32", 3/16", 7/32", 1/4",
Torx: T6, T8, T10, T15, T20, T25
ADD BASIC S&H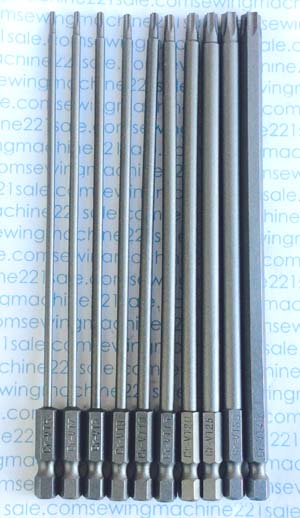 Torx Bit Set 5" Long with Thin Shaft (Bin T-2)
$16.95
Sewing machine and other appliances require a long thin shaft for getting into confined areas
5" long with a standard 1/4" hex shaft
Set includes one each: T6, T7, T8, T9, T10, T15, T25, T30, T40
ADD BASIC S&H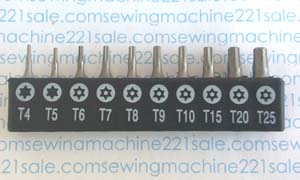 Torx Bit Set Small (Bin T-3)
$13.95
Hard to find Torx bits, standard 1/4" hex shaft
Set includes: T4, T5, T6, T7, T8, T9, T10, T15, T20, T25
ADD BASIC S&H


Free Motion Guide Grip
$39.95
Fits ALL machines.
No need to place your fabric in a hoop for free-motion sewing. Place on top of fabric for free-motion, quilting, embroidery or monogramming. The friction surface on the underside of the guide grip holds the fabric taut and provides handles for moving the fabric. Set your machine for normal free-motion sewing according to your operators manual.
Note: For free-arm models works best with your sewing machine extension plate attached.
Some fabrics especially light weight fabrics may require a stabilizer. Some projects may require the conventional two piece wood hoop.
NOTE: For additional information click on this link "How to do Free Motion Sewing"
This item is Freight Intensive (F/I), $8.95 is the basic S&H for ALL Freight Intensive (F/I) items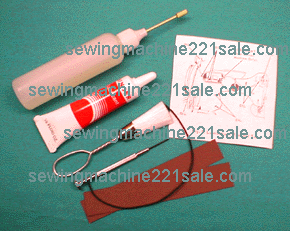 Operator Maintenance Kit
$12.95
*High quality oil in refillable extendable spout. Long neck spout style of oiler #NK2 may vary depending on availability.
*Lubricant for gears
*Lint brush
*Extra fine quality screw driver for tension adjustments
*2 strips of crocus cloth for removing burs on hook, etc.
*6" abrasive cord #52 for removing burs in and around needle plate, etc.
*Oil and lubricant instructions pamphlet for various models
ADD BASIC S&H






Email: sewingmachine221sale@pop.bizland.com
This web site is owned and operated by:
Discount Sewing Machine Service ©2000
Site contains material that are trademark TM and servicemark SM.
All material is for personal use only and is not to be mass produced.
Pages constructed and maintained by Kas