How to do a Power Conversion
Treadle to Electric (Using Terminal box #700)

Treadle or Electric to Hand Crank

Portable Knee Control to Electric Foot Control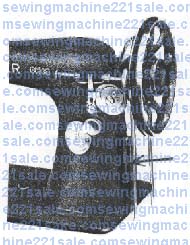 Treadle to Electric


Many sewing machines were designed to be operated by treadle or electric.
If you presently have a treadle and wish to convert to electric, the machine MUST have a built on motor mount. The motor mount can be found on the right portion of the machine head below the hand wheel (see arrow). This is part of the casting and cannot be added.






HOW TO CONVERT TREADLE to ELECTRIC USING TERMINAL BOX #700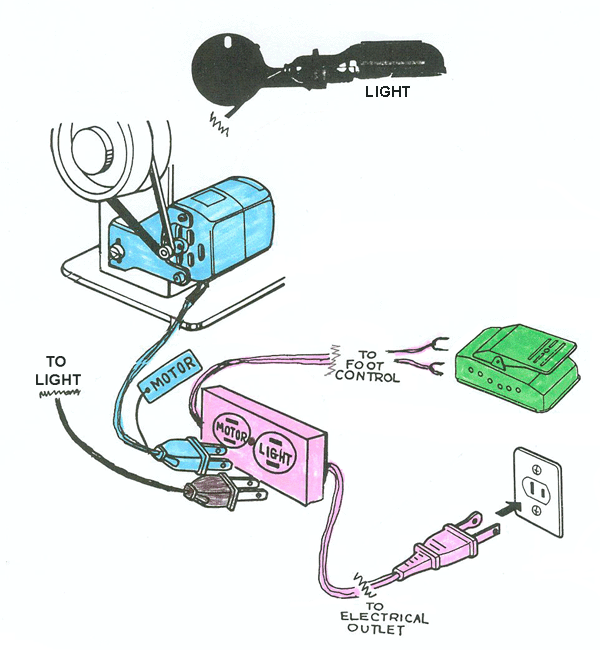 Terminal Box #700 (Pink)

Light (Black) #B428 comes with light bulb #658

Motor (Blue) #159966

Foot Control (Green) #204/704

Stretch Belt Kit

All items come in black, we have used color in the drawing for easier identification.
The motor is available in black or white.
All items can be purchased SEE BELOW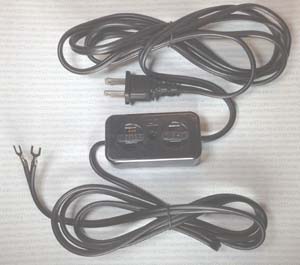 Terminal Box (bin 74) #700 with cords* (143)
$14.95
Companion electric terminal box with lead cord/plug and wires to fasten on existing foot control or control #204 (or existing knee control), also accepts light #B428/618-M and motor 159966, #NA35-K or NA35-L
Cord from terminal box to foot control or knee control measures 54" in length. Cord from terminal box to wall outlet measures 74". The terminal box measures approximately 3" long, 1 1/2" wide, 3/4" high
For additional information on terminal box #700 set-up click on this link Terminal Box #700 Set-up
This system, using the terminal box #700 is very easy, it is a matter of plug-ins (no wiring or rewiring required).
ADD BASIC S&H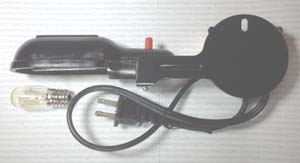 Singer Light #B428 (618M)
$18.95
Replacement for older style Singers and other 15 class (HA-1) style machines. Also fits 66 class.
Mounts behind round access plate in rear of the machine.
This light cord has electric plug for terminal box #700, however plug can be cut off for direct wiring depending on your machine set up. If you are not comfortable with direct wiring please take your part and machine to your nearest certified sewing machine technician.
Comes with bulb #658.
This item is large in size. Choose $8.95 for the S&H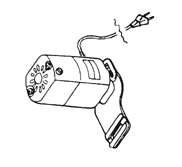 Motor #159966
$29.95
Standard replacement motor with adjustable bracket
Motor is 0.9A, 7000RPM, AC 110/125V, 90 watt, 50/60Hz
To replace old style motors no-longer available by Singer
Has 15" cord with plug for use with #700 terminal box Terminal Box #700 Set-up. Plug can be cut off and discarded allowing the cord to be rewired for your particular set-up.
Compatible with "motor maintence kit #4013/4015".
SPECIAL NOTE: Before ordering this motor make sure your machine has a motor boss (a place on the side under the hand wheel to mount the motor, this is not a part that can be added to your machine, it is formed in the machine casting.) This motor boss may not be on some of the very old treadle type machines which never had a motor or a hand crank.
This item is Freight Intensive (F/I), $8.95 is the S&H for this Freight Intensive (F/I) item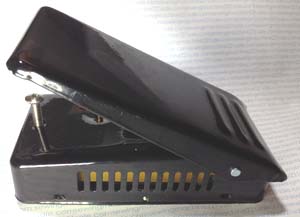 Foot Control (bin 13) #704/204 Control ONLY
$15.95
New style metal foot control, carbon element with larger foot area and adjustable screw to help control top speed.
Very common replacement for 2 wire controls, older style non-eletronic foot controls.
NOT for pin-type plug-in cords.
$8.95 is the basic S&H for ALL FOOT CONTROLS and does NOT qualify for Free S&H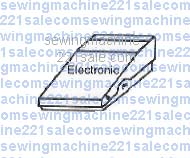 Foot Control (bin 14) EFC Control ONLY
$29.95
Electronic Foot Control
Will replace any 2-wire control (one 2 strand wire going into the foot control)
NOT for pin-type plug-in cords.
Very Common
$8.95 is the basic S&H for ALL FOOT CONTROLS and does NOT qualify for Free S&H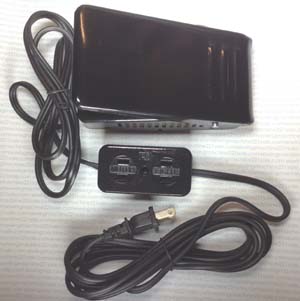 Foot Control (bin 51) #700/143 Cord-704 (204)PD
$29.95
Foot control with electric block receptacle for motor plug-in and light plug-in.
Fits older style machines.
For additional information on terminal box #700 set-up click on this link Terminal Box #700 Set-up
$8.95 is the basic S&H for ALL foot controls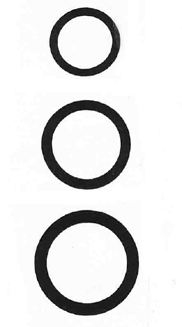 Stretch Belts Kit / Assorted Size
$15.95
One of each size 10", 13", 15"
A better fit than original, requires little or no technical adjustment
Less strain on motor with better traction.
ADD BASIC S&H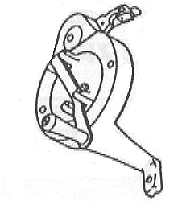 Hand Crank Attachment #81222
$29.95
Hand crank is a good aftermarket reproduction and attaches to a spoke wheel (#15282) and mounts to machine side in place of electric motor
Come with mounting bolt and instructions.
SPECIAL NOTE: Before ordering this hand crank make sure your machine has a motor boss (a place on the side under the hand wheel to mount the hand crank, this is not a part that can be added to your machine, it is formed in the machine casting.) This motor boss may not be on some of the very old treadle type machines which never had a motor or a hand crank.
This item is Freight Intensive (F/I), $12.95 is the S&H for this Freight Intensive (F/I) item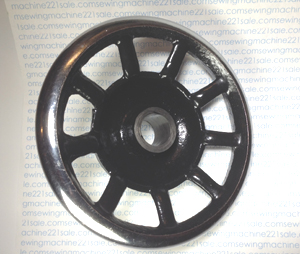 Spoke Wheel #15282
$24.95
Spoke wheel is a good aftermarket reproduction and used for treadle or hand crank machines
This item is Freight Intensive (F/I), $12.95 is the S&H for this Freight Intensive (F/I) item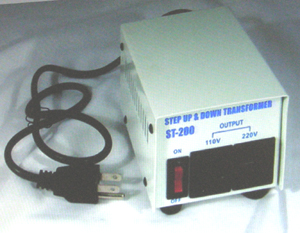 Motor Voltage Transformer #ST-200
$69.95
Converts 110 volt motor to 220 volt or a 220 volt motor to 110 volt, 200 watt
This item is Freight Intensive (F/I), $15.00 is the basic S&H for ALL Freight Intensive (F/I) items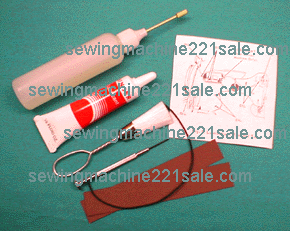 Operator Maintenance Kit
$12.95
*High quality oil in refillable extendable spout. Long neck spout style of oiler #NK2 may vary depending on availability.
*Lubricant for gears
*Lint brush
*Extra fine quality screw driver for tension adjustments
*2 strips of crocus cloth for removing burs on hook, etc.
*6" abrasive cord #52 for removing burs in and around needle plate, etc.
*Oil and lubricant instructions pamphlet for various models
ADD BASIC S&H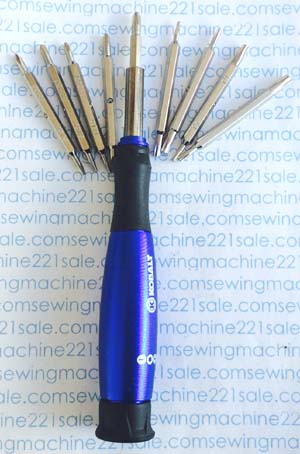 Mini Precision Screwdriver Set (Bin T-4)
$9.95
Small compact set includes compact bit holder or store bits in handle
Set includes: Slotted: 1/8", 3/32", 5/64", 5/64", 1/16"
Phillips: PH000, PH00, PH00, PH0, PH1
Torx star: T4, T5, T6, T7, T8, T9, T10, T15
ADD BASIC S&H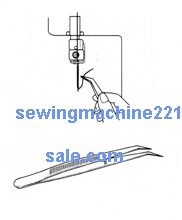 Tweezers #TWE6
$3.95
Top quality tweezers with guide pin
6" long with bent point design.
The best tool in your accessory box. Ideal for threading needles on sewing machines and needles and loopers on sergers. Many other practical sewing uses: removing thread and lint build-up from small areas in the sewing machine, pulling out unwanted stitches, etc.
ADD BASIC S&H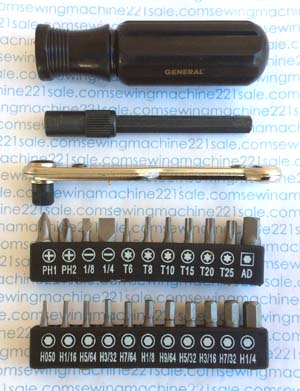 Small Tools, Driver Set with Offset Ratchet (Bin-T-1)
$17.95
Sewing machine and other small appliances require different tools than your car or home
This set is a great place to start
Set contains one each: reversible ratchet handle, spinner screwdriver handle, 3 1/4" extension handle
One each of the following bits
Slotted screwdriver: 1/8", 1/4"
Phillips screwdriver: PH#1, PH#2
Hex: .050", 1/16", 5/64", 3/32", 7/64", 1/8", 9/64", 5/32", 3/16", 7/32", 1/4",
Torx: T6, T8, T10, T15, T20, T25
ADD BASIC S&H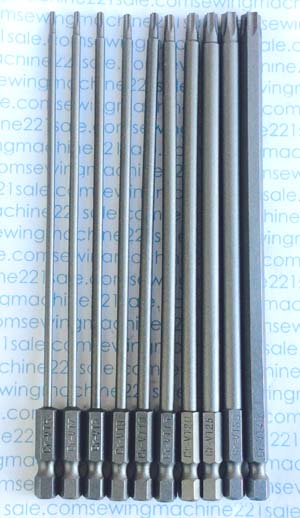 Torx Bit Set 5" Long with Thin Shaft (Bin T-2)
$16.95
Sewing machine and other appliances require a long thin shaft for getting into confined areas
5" long with a standard 1/4" hex shaft
Set includes one each: T6, T7, T8, T9, T10, T15, T25, T30, T40
ADD BASIC S&H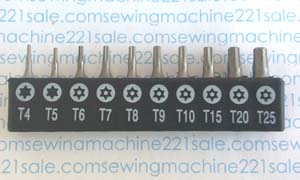 Torx Bit Set Small (Bin T-3)
$13.95
Hard to find Torx bits, standard 1/4" hex shaft
Set includes: T4, T5, T6, T7, T8, T9, T10, T15, T20, T25
ADD BASIC S&H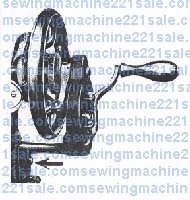 Conversion to Hand Crank



To install Hand Crank (part #KS-1) you MUST have a built on motor mount (see arrow) as mentioned in the treadle to electric conversion. You MUST also have a spooked hand wheel (part #15282). The handle flips down and out of the way for storage.



For the parts necessary to complete conversions click on Treadle & Vintage Parts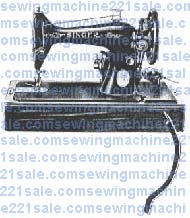 Portable Knee Control to Electric Foot Control



Sorry to say knee controls are no longer available. An alternative is to convert to an electric foot control.





TO COMPLETE THE CONVERSION YOU WILL NEED: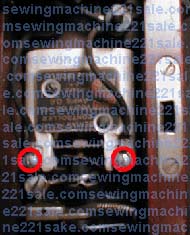 Foot control #204

Control to terminal cord #600
66" long cord with two terminal connectors at each end.
Attach #600 cord to #204 foot control.
Attach the other end of #600 cord to the existing screws (marked in drawing with red circles) inside the metal plate.
The #600 cord can be guided out through hole in the metal plate (same hole used for the light and motor cord).


NOTE: This is the least intrusive conversion and easy to convert back should you be so lucky to someday find a knee control.




For the parts necessary to complete conversions click on Treadle & Vintage Parts





Please Note: If you are not comfortable performing this or any sewing machine maintenance, take your machine and control to your local dealer.



Email: sewingmachine221sale@pop.bizland.com
This web site is owned and operated by:
Discount Sewing Machine Service ©2000
Site contains material that are trademark TM and servicemark SM.
All material is for personal use only and is not to be mass produced.
Pages constructed and maintained by Kas