---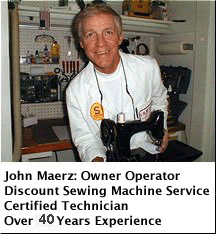 WELCOME TO OUR WEB STORE !!!
We hope you will explore the many unique features we have to offer.
We specialize in Singer parts: Parts for Singer Featherweights, Old Treadle Singers, Parts for Vintage and New Singer Sewing Machines. We also have available parts for Viking, White, Brother, Kenmore, EuroPro and other popular sewing machines.
We offer the largest selection of parts at the most competive prices.
On average our web site is updated five times per working day.
Visit us often for new and exciting features.
Now that you are here stay awhile. Bookmark us and share us with a friend.


---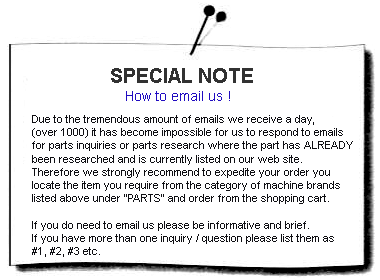 Want your order FAST? Pay through PayPal!
Be sure to use a confirmed PayPal address
ADDRESS:
DISCOUNT SEWING MACHINE
32 MUIRFIELD GREENS LANE
LAKEWAY, TX 78738-1113



Email: sewingmachine221sale@pop.bizland.com
This web site is owned and operated by:
Discount Sewing Machine Service ©2000
Site contains material that are trademark TM and servicemark SM.
All material is for personal use only and is not to be mass produced.
Pages constructed and maintained by Kas