google5993c5666b5daeec.html

How to Clean Old Sewing Machines





If you own a Vintage Black Machine congratulations,
but curb your enthusiasm for trying to bring it back to it's "original condition".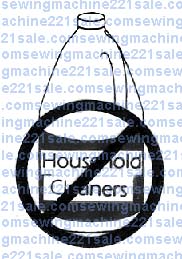 Painting or touch-up is not recommended.
The dings and scratches are the fingerprint of your machines unique life.
Keep it as original as you found it.

In cleaning: Your main goal should be to remove loose dirt,
this can be done with a stiff lint brush * (S-2110).
Do NOT use any home cleaners on the black paint or decals.
To shine and also clean grime use clear white sewing machine oil * (#NK2W)
* Available in the "Operators Maintenance Kit". This oil is highly refined
with most of the wax/varnish removed to help prevent yellowing and gumming. Apply a small amount on a clean cloth, rub gently, repeat with no oil on the cloth.
Caution: Do NOT over rub decals.

I believe sewing machine oil is the one product chemists and engineers of that time period knew would come in contact with the painted surface and therefore made them compatible.
To clean the metal parts, not painted, remove only the parts you feel you can replace without technical adjustments. On these parts I recommend using a cleaner compatible with the metal type and surface type you are working with, avoid steel wool or any other abrasive product.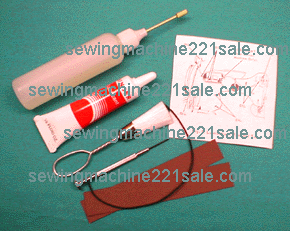 Operator Maintenance Kit
$12.95
*High quality oil in refillable extendable spout. Long neck spout style of oiler #NK2 may vary depending on availability.
*Lubricant for gears
*Lint brush
*Extra fine quality screw driver for tension adjustments
*2 strips of crocus cloth for removing burs on hook, etc.
*6" abrasive cord #52 for removing burs in and around needle plate, etc.
*Oil and lubricant instructions pamphlet for various models
ADD BASIC S&H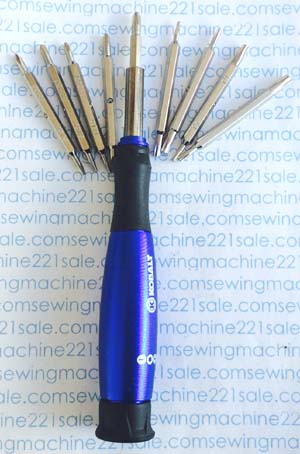 Mini Precision Screwdriver Set (Bin T-4)
$9.95
Small compact set includes compact bit holder or store bits in handle
Set includes: Slotted: 1/8", 3/32", 5/64", 5/64", 1/16"
Phillips: PH000, PH00, PH00, PH0, PH1
Torx star: T4, T5, T6, T7, T8, T9, T10, T15
ADD BASIC S&H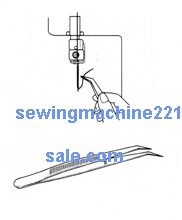 Tweezers #TWE6
$3.95
Top quality tweezers with guide pin
6" long with bent point design.
The best tool in your accessory box. Ideal for threading needles on sewing machines and needles and loopers on sergers. Many other practical sewing uses: removing thread and lint build-up from small areas in the sewing machine, pulling out unwanted stitches, etc.
ADD BASIC S&H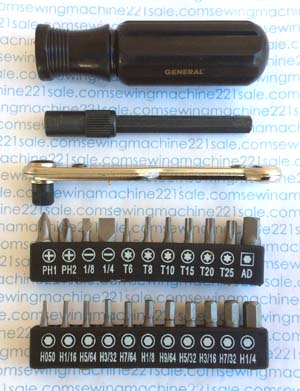 Small Tools, Driver Set with Offset Ratchet (Bin-T-1)
$17.95
Sewing machine and other small appliances require different tools than your car or home
This set is a great place to start
Set contains one each: reversible ratchet handle, spinner screwdriver handle, 3 1/4" extension handle
One each of the following bits
Slotted screwdriver: 1/8", 1/4"
Phillips screwdriver: PH#1, PH#2
Hex: .050", 1/16", 5/64", 3/32", 7/64", 1/8", 9/64", 5/32", 3/16", 7/32", 1/4",
Torx: T6, T8, T10, T15, T20, T25
ADD BASIC S&H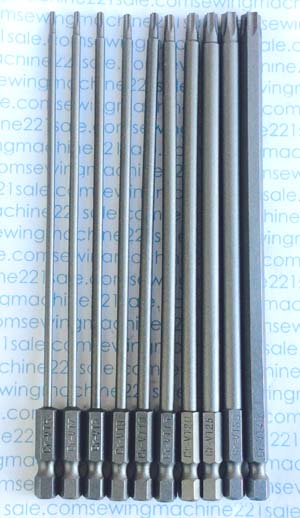 Torx Bit Set 5" Long with Thin Shaft (Bin T-2)
$16.95
Sewing machine and other appliances require a long thin shaft for getting into confined areas
5" long with a standard 1/4" hex shaft
Set includes one each: T6, T7, T8, T9, T10, T15, T25, T30, T40
ADD BASIC S&H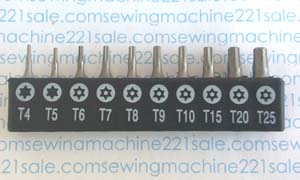 Torx Bit Set Small (Bin T-3)
$13.95
Hard to find Torx bits, standard 1/4" hex shaft
Set includes: T4, T5, T6, T7, T8, T9, T10, T15, T20, T25
ADD BASIC S&H





Email: sewingmachine221sale@pop.bizland.com
This web site is owned and operated by:
Discount Sewing Machine Service ©2000
Site contains material that are trademark TM and servicemark SM.
All material is for personal use only and is not to be mass produced.
Pages constructed and maintained by Kas