How to do Free Motion Sewing
THE FOLLOWING IS THE BASIC PROCEDURE FOR FREE MOTION SEWING.
You can make beautiful monograms, stippling and embroidery work with any basic good working
zig-zag sewing machine.




HELPFUL INFORMATION FOR SUCESS
Start off with a good working clean and freshly oiled sewing machine.
Record your present upper tension number. Write this number down as your primary regular tension for sewing.
Record your free motion upper tension number which will be approximately 2 number lower than your sewing number.
EXAMPLE:
Regular sewing tension: 4 to 5
Free motion tension: 2 to 3
The reason we slightly decrease the upper tension is to help avoid pulling the bobbin thread up to the top where it can be seen.

Attach a free motion foot to your machine (see below).
A free motion foot allows the operator to move the fabric/work in any direction desired. The sewing machine is no longer moving the fabric.
Attach a feed cover plate, drop or lower the feed system according to the instructions in your operators manual.

ADDITIONAL INFORMATION:
Choose a good quality 6" or 8" wood embroidery hoop with a heavy metal adjusting screw designed specifically for sewing machine work. See monogramming kit below.
For best results use 30 weight machine embroidery thread - looks great and fills in thicker.
For the bobbins; fill several in advance with a basting thread or a thread the same color as your top thread or the same color as your fabric. The idea is to blend the thread.



Steps:
1. Trace your letter or letters on a small piece of Tear-Away / stabilizer (A/D) "Sulky #405-01 Water Soluble Stablizer".
2. Unscrew / loosen screw (E) in (B-bottom) outer hoop about half way and lay on a firm surface.
3. Lay Tear-Away (D) "Sulky #751-03 over hoop (B-bottom) outer hoop.
4. Lay fabric / garment (C) over stabilizer (D).
5. Insert (B-top) hoop into (B-bottom) outer hoop.
Push the top hoop slightly lower than the bottom outer hoop.
If you are having difficulty inserting the top hoop in to the bottom hoop, slightly loosen screw (E). Heavy fabrics such as sweaters or towels may require the screw to be more open.
6. Tighten screw (E) with a small screw driver sufficient enough to hold all pieces in place. Do not over tighten to where you could strip the threads.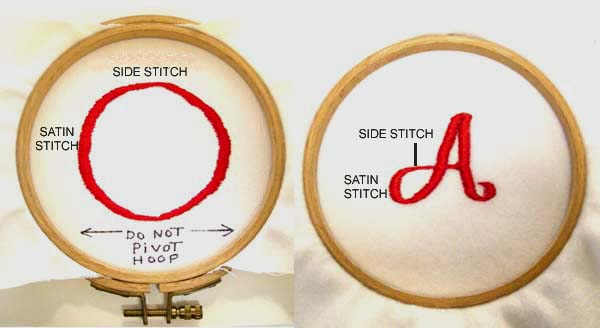 PRACTICE MONOGRAMMING by DOING CIRCLES
Set your work up as described above. Draw a circle on your practice fabric. Stitch around the circle "do not pivot hoop" notice that the left and right side are wide referred to as a satin stitch. Notice the top and bottom are narrow referred to as a side stitch.
To achieve this effect "do not pivot hoop" keep the arrow in conjunction with the front of your sewing machine.
Just simple rest the hoop gently on the bed of the machine and slide the hoop in a circular motion as if you were writing.

TRY IT - PRACTICE - make several circles - try making different size circles.
There you have it!!! If you can make circles you can make beautiful monogrammed letters.

NOW TRACE YOUR LETTER
On a small piece of tear-away (751-03) or water soluble stabilizer (405-01) when you don't want any stabilizer to show on the top or bottom because it disappears with water. Trace your letter using the "Collins #C28 Vanishing Marker" in the monogramming kit below.
Pin your traced letter in the desired position use only the amount of pins to keep in place (do not pin in your sewing area) or use "Collins #C31 Glue Stick" instead of pins.
Your monogrammed letter will always look better if you go around it twice: Set your machine width to a medium setting, go around your letter; tear off the excess tear-away. Set your machine width for a wider setting and go around again. Pull your top thread to the bottom and tie a knot and clip close with a pair of small embroidery scissors. You can seal the beginning and end of the monogrammed letter with "Collins #C574 Fray Check".

ADDITIONAL INFORMATION on MONOGRAMMING will be provided in the "Monogramming Kit" including a set of monogramming traceable letters especially designed for sewing machines, lay out styles and application.









STIPPLING
Stippling is a form of free motion sewing using a straight stitch (not zig-zag) to create free flowing design used in quilting and other decorative work.

ADDITIONAL INFORMATION
Option 1. Set your work up as described above.
Option 2. For stippling work it may not always be necessary to insert your work into a hoop. If your work is stable enough a hoop will not be necessary. If your work is not stable you can use "Sulky #751-03 Tear-Away Stabilizer" on the bottom of your work or "Sulky #405-01 Clear Water Soluble Stabilizer" to trace your stippling pattern onto. A problem that may exist if your fabric is not stabilized correctly will be: Puckering, skipping of stitches, or the fabric moving up and down with the needle (bouncing or hopping) which also causes skipped stitches. Once again, stabilize the fabric to avoid these problems. Always use a new needle and the correct needle for your work.
Nine practice / traceable stippling patterns are provided in the Monogramming Kit.
Once you become efficient in free motion work it may not be necessary to use a tracing pattern when doing stippling work.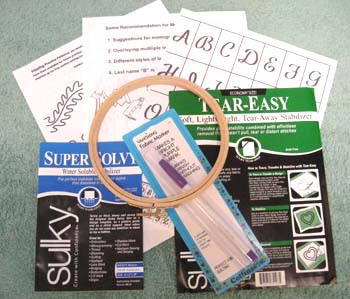 Free Motion Kit (Bin-21)
$19.95
Free Motion kit includes :
6" top quality sewing machine hoop with heavy duty screw mechanism.
Collins #C28 vanishing marker for tracing or marking on fabric.
Sulky #751-03 tear away stabilizer (20" X 3 yards).
Sulky #405-01 super water soluble stabilizer (19 1/2" X 36").
Monogramming alphabet set (traceable & reusable).
Stippling practice patterns (9 patterns traceable & reusable).
Additional instructions included
Click on this link to learn more about "Free Motion Sewing"
This item does NOT qualify for FREE S&H it is freight intensive F/I.
ADD BASIC S&H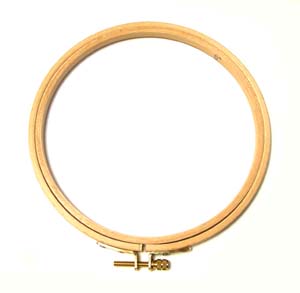 Wood Hoop 6" (high quality)
$7.95
High quality 6" wooden hoop with heavy duty fixing screw.
Works best for free motion sewing such as monogramming, appliquéing, machine embroidery, lace work, thread painting, quilting, etc.
Only 5/16" thick so it will slide easily under the sewing machine needle.
Very nicely finished with beveled edges less likely to snag the fabric or scratch the bed of the sewing machine, this hoop properly used will hold the fabric tight and firm which is very important when doing free motion sewing.
ADD BASIC S&H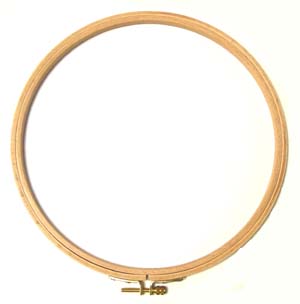 Wood Hoop 8" (high quality)
$8.95
High quality 8" wooden hoop with heavy duty fixing screw.
Works best for free motion sewing such as monogramming, appliquéing, machine embroidery, lace work, thread painting, quilting, etc.
Only 5/16" thick so it will slide easily under the sewing machine needle.
Very nicely finished with beveled edges less likely to snag the fabric or scratch the bed of the sewing machine, this hoop properly used will hold the fabric tight and firm which is very important when doing free motion sewing.
ADD BASIC S&H



Sulky Super Solvy #405-01
$4.59
Sulky Super Solvy, sold in a package of one sheet size 19 1/2" X 36".
Super Solvy is a medium weight, translucent (see through) water soluble stabilizer.
Use as a design template, as a pattern guide and as a stitch support.
Ideal when you don't want any stabilizer to show on the top or bottom because it disappears with water.
Great for monogramming, appliquéing, machine embroidery, lace work, thread painting, quilting, etc.
ADD BASIC S&H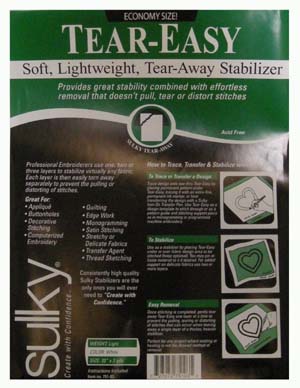 Sulky Tear-Away #751-03
$5.49
Sulky Tear-Away (Tear-Easy) soft, light weight stabilizer. Sold in a package, one sheet 20" X 3 yards.
Provides great stability combined with effortless removal thet doesn't pull, tear or distort stitches.
Use to trace, transfer and stabilize.
Great for monogramming, appliquéing, machine embroidery, lace work, thread painting, quilting, etc.
ADD BASIC S&H



Fabric Glue Stick #C31 (Bin-17)
$2.95
Fabric glue stick by Collins.
A new instant basting adhesive. Ideal for use on fabric, leather, vinyl, felt, paper, etc.
Great for temporary basting / holding fabric to fabric when monogramming, appliqueing, machine embroidery, quilting, etc.
Non-toxic, water soluble, acid-free.
Net weight .28 oz.
ADD BASIC S&H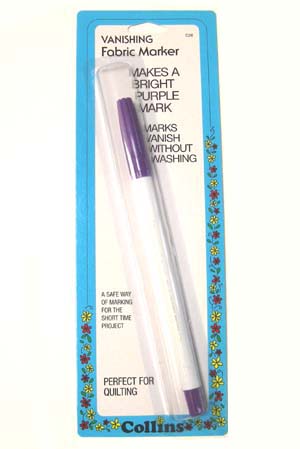 Vanishing / Disappearing Ink Marker Pen #C28 / 677-60
$3.95
Marker pen for fabric makes a purple mark then vanishes.
Ideal for tracing or marking on the the fabric for monogramming, appliquéing, machine embroidery, lace work, thread painting, quilting, etc.
Collins or Dritz depending on present inventory.
ADD BASIC S&H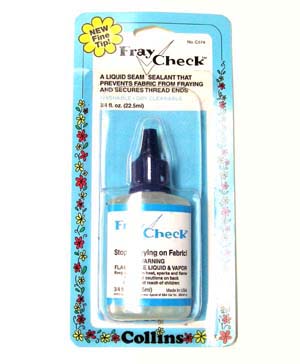 Fray Check #C574 (Bin-18)
$3.95
Fray check by Collins.
A liquid seam sealant that helps prevents fabric from fraying and secures thread ends.
Washable and dry cleanable.
3/4 fluid ounce.
Great for monogramming, appliquéing, machine embroidery, lace work, thread painting, quilting, etc.
ADD BASIC S&H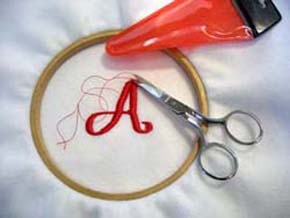 4 Inch Embroidery Scissors
$6.95
4" embroidery scissors
Fine sharp point ideal for close work in small areas
CAUTION: As in most cutting instruments the point and blades are sharp and should be handled ONLY by adults for cutting and craft use.
ADD BASIC S&H



Free Motion Guide Grip
$39.95
Fits ALL machines.
No need to place your fabric in a hoop for free-motion sewing. Place on top of fabric for free-motion, quilting, embroidery or monogramming. The friction surface on the underside of the guide grip holds the fabric taut and provides handles for moving the fabric. Set your machine for normal free-motion sewing according to your operators manual.
Note: For free-arm models works best with your sewing machine extension plate attached.
Some fabrics especially light weight fabrics may require a stabilizer. Some projects may require the conventional two piece wood hoop.
NOTE: For additional information click on this link "How to do Free Motion Sewing"
This item is Freight Intensive (F/I), $8.95 is the basic S&H for ALL Freight Intensive (F/I) items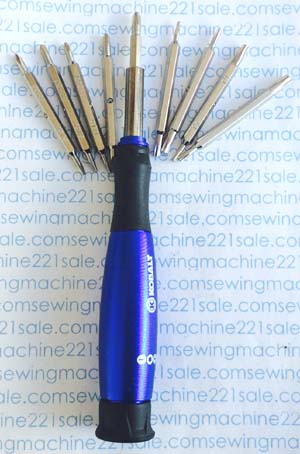 Mini Precision Screwdriver Set (Bin T-4)
$9.95
Small compact set includes compact bit holder or store bits in handle
Set includes: Slotted: 1/8", 3/32", 5/64", 5/64", 1/16"
Phillips: PH000, PH00, PH00, PH0, PH1
Torx star: T4, T5, T6, T7, T8, T9, T10, T15
ADD BASIC S&H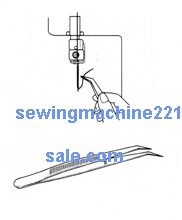 Tweezers #TWE6
$3.95
Top quality tweezers with guide pin
6" long with bent point design.
The best tool in your accessory box. Ideal for threading needles on sewing machines and needles and loopers on sergers. Many other practical sewing uses: removing thread and lint build-up from small areas in the sewing machine, pulling out unwanted stitches, etc.
ADD BASIC S&H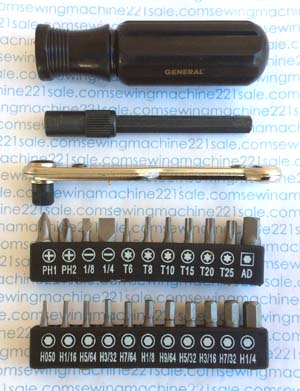 Small Tools, Driver Set with Offset Ratchet (Bin-T-1)
$17.95
Sewing machine and other small appliances require different tools than your car or home
This set is a great place to start
Set contains one each: reversible ratchet handle, spinner screwdriver handle, 3 1/4" extension handle
One each of the following bits
Slotted screwdriver: 1/8", 1/4"
Phillips screwdriver: PH#1, PH#2
Hex: .050", 1/16", 5/64", 3/32", 7/64", 1/8", 9/64", 5/32", 3/16", 7/32", 1/4",
Torx: T6, T8, T10, T15, T20, T25
ADD BASIC S&H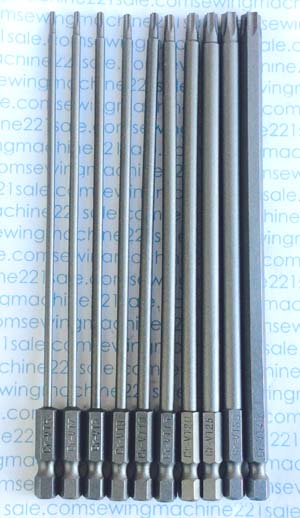 Torx Bit Set 5" Long with Thin Shaft (Bin T-2)
$16.95
Sewing machine and other appliances require a long thin shaft for getting into confined areas
5" long with a standard 1/4" hex shaft
Set includes one each: T6, T7, T8, T9, T10, T15, T25, T30, T40
ADD BASIC S&H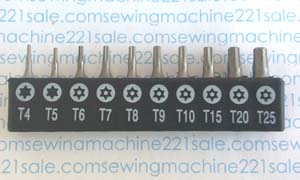 Torx Bit Set Small (Bin T-3)
$13.95
Hard to find Torx bits, standard 1/4" hex shaft
Set includes: T4, T5, T6, T7, T8, T9, T10, T15, T20, T25
ADD BASIC S&H