Reconditioned Machines



We take a tremendous amount of pride in our Reconditioned sewing machines. We select only those machines we believe will offer the best value and performance to our customers.
* The value of your machines cannot be compared with any on-line auction, garage sale or similar resource. Our machines are professional serviced, cleaned, oiled and detailed in our own shop. In most cases we believe they perform as good as, or better than when they were new.
All machines come with basic attachments (B/A) such as needles, bobbins, zipper foot and instruction manual, or (B/A+) basic attachments plus additional attachments.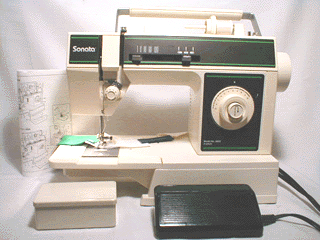 Singer Sonata Model 6602
$0.00
SOLD
A GREAT Basic Machine
With front loading bobbin system. Push button de-clutching, Handle, Stright Stitch, Zig-Zag for making Buttonholes, Sewing on buttons, Over-Edging, Monograming, Applique and much more.
Reconditioned and Detailed
Under shipping choose F/I All Sewing Machines $15.00 for S&H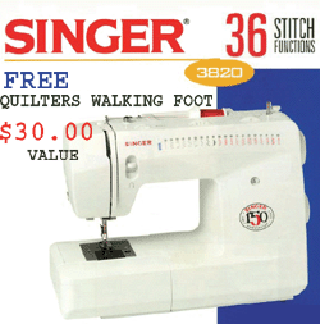 SINGER 3820 FS
$0.00
SOLD

SPECIAL was $199.83

36 Stitch Function (20 Built-in Stitches)

Automatic Built-in Buttonhole System

Positive Traction Drive System

Eletronic Power

Metal Hook Gear

Top Loading Bobbin, Rotary Hook

Drop Feed System

Presser Regulator Control

Uses Type "B" Snap-on Feet

Refurbished by Singer Factory Service (FS)

Warranted by Singer National Service Center

Machine has been quality tested, threaded with a fabric sample (by our own technicians)

Limited Quantity

Limited Offer on FREE Quilters Walking Foot

May have small cosmetic blemishes

Under shipping choose F/I All Sewing Machines $15.00 for S&H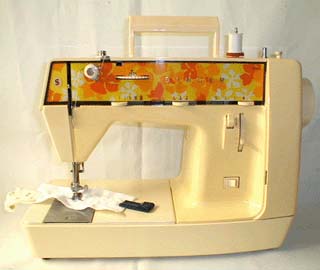 Singer Model 354 Genie
$0.00
SOLD
"Sew where you go" with this stylish 19 pound portable Genie.
Has a self-contained carrying case with storage for the foot control and accessories.
Front drop-in bobbin for quick and convenient bobbin removal and replacement.
Push button de-clutch and one way needle clamp.
Has the most desired stitches: straight stitch, zig-zag, mending, blindhem and elastic stitch.
Can make buttonholes, sew on buttons and much more.
Comes with bobbins, needles, zipper foot, special purpose applique foot, blindhem gauge, raised plate device for free motion and darning, free motion foot. Comes with foot control and reprint manual.
Machine has been tuned-up, cleaned, oiled and detailed.
Under shipping choose F/I All Sewing Machines $15.00 for S&H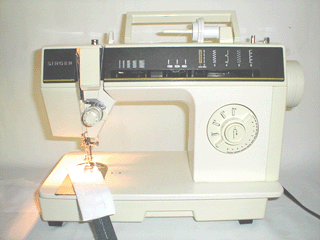 Singer School Model #6012
$0.00
SOLD OUT
Singer trade-ins reconditioned and ready to sew.
Very LIMITED supply. Please inquire in advance on multi-purchases.
Features the most desirable stitches: straight stitch (right, center, left needle position), zig-zag, blind hem, mending (elastic-multi zig-zag), overcasting, buttonhole. Top loading full rotary hook system, push button clutch, self-threading take-up lever, easy carry handle. Comes with bobbins, needles and instruction pamphlet. Reconditioned, cleaned and oiled. Some cosmetic scratches and/or slight imperfections.
Under shipping choose F/I All Sewing Machines $15.00 for S&H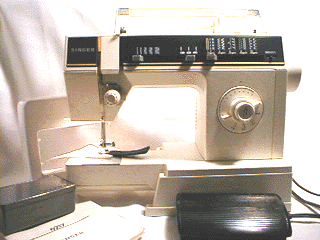 SINGER MODEL 6217
$0.00
SOLD
Modern Full Featured Machine. Buttonholer, Overedge Strech Stitch, Zig-Zag, Monogram, Blind hem, Applique, Free-arm, Top Loading Bobbin. Carring Handle, Book and Accessories.
Reconditioned and Detailed.
Under shipping choose F/I All Sewing Machines $15.00 for S&H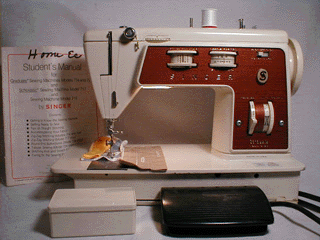 SINGER SCHOOL MODEL 6704
$0.00
SOLD OUT
Very dependable, still going strong in many schools. HEAVY DUTY, full size head (16 1/2" X 7" base), cast aluminum head, two speed direct drive motor, front top loading bobbin, Referred to as "The Graduate" or "Teachers Model" with increased stitches such as Straight stitch, Zig-zag, Blind-hem, Mending, Over-edge serging and Twin needle sewing. Some cosmetic scratches. Reconditioned and Detailed
Under shipping choose F/I All Sewing Machines $15.00 for S&H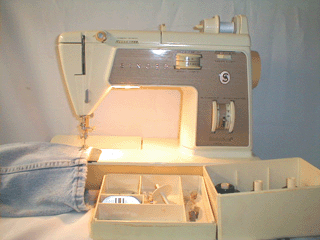 Singer Touch & Sew Model 778
$0.00
SOLD
Singer Touch&Sew Free-arm model.
Fills the bobbin directly from the needle.
Versatile interchangeable functional and decorative patterns which include: over-casting stretch stitch, soft-touch feed system, fast and slow control system, magnetic needle plates, built-in buttonhole system, self-threading take-up lever, heavy duty direct gear drive motor. Comes with original accessories and reprint manual.

Machine has been tuned, cleaned, oiled and detailed.
Under shipping choose F/I All Sewing Machines $15.00 for S&H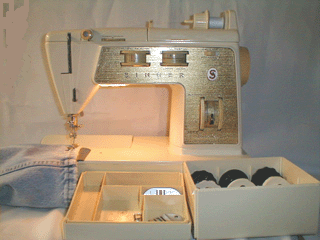 Singer Golden Touch & Sew
Model 770
$0.00
SOLD
Singer top of the line Golden Touch&Sew Free-arm model.
Fills the bobbin directly from the needle. Dial control for instant patterns plus the versatility of interchangeable functional and decorative patterns which include: over-casting stretch stitch, soft-touch feed system, fast and slow solid state control system, magnetic needle plates, built-in buttonhole system, self-threading take-up lever, heavy duty direct gear drive motor. Comes with original accessories and reprint manual. Machine has been tuned, cleaned, oiled and detailed.
Under shipping choose F/I All Sewing Machines $15.00 for S&H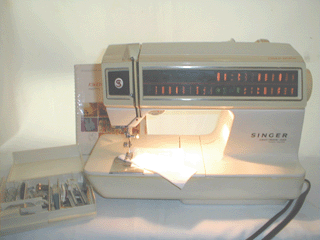 Singer Electronic Model 2001
SR# S8283013
$0.00
SOLD
Singer electronic 2001 top-of-the-line
in the late 70's early 80's.
Touch panel automatically produces a variety of functional and/or decorative stitches, plus two types of buttonholes, the size is determined by the actual button to be used. Wind-in-place top loading bobbin system. Many other features: pattern repeat, instant or continuous reverse, 2X stitch length, mirror imaging, free-arm panel, soft touch feed, one way needle clamp, snap-on presser feet. Comes with original manual and accessories. Machine has been tuned-up, cleaned, oiled and detailed.
Under shipping choose F/I All Sewing Machines $15.00 for S&H



Free Motion Guide Grip
$39.95
Fits ALL machines.
No need to place your fabric in a hoop for free-motion sewing. Place on top of fabric for free-motion, quilting, embroidery or monogramming. The friction surface on the underside of the guide grip holds the fabric taut and provides handles for moving the fabric. Set your machine for normal free-motion sewing according to your operators manual.
Note: For free-arm models works best with your sewing machine extension plate attached.
Some fabrics especially light weight fabrics may require a stabilizer. Some projects may require the conventional two piece wood hoop.
NOTE: For additional information click on this link "How to do Free Motion Sewing"
This item is Freight Intensive (F/I), $8.95 is the basic S&H for ALL Freight Intensive (F/I) items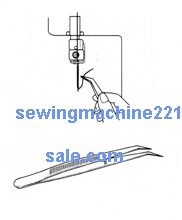 Tweezers #TWE6
$3.95
Top quality tweezers with guide pin
6" long with bent point design.
The best tool in your accessory box. Ideal for threading needles on sewing machines and needles and loopers on sergers. Many other practical sewing uses: removing thread and lint build-up from small areas in the sewing machine, pulling out unwanted stitches, etc.
ADD BASIC S&H






Email: sewingmachine221sale@pop.bizland.com
This web site is owned and operated by:
Discount Sewing Machine Service ©2000
Site contains material that are trademark TM and servicemark SM.
All material is for personal use only and is not to be mass produced.
Pages constructed and maintained by Kas