google5993c5666b5daeec.html

How To Avoid Skipped Stitches



Always start a new project with a clean, lint-free sewing machine that has been lightly oiled.



Be sure to select the appropriate needle for the type and weight of your fabric. The needle is the most important part of your sewing machine. If you are using a standard weight (size 14) needle for delicate fabrics you are taking a chance of the needle pushing the fabric below and into the throat plate. This is a significant cause of skipped stitches.
To help avoid this problem choose a size 11 or 12 for delicate fabrics. Also if your are using the standard zig-zag needle plate equipped with your sewing machine, that has a large oval hole, this can also cause skipping. Some models included a straight stitch throat plate (small hole) and a straight stitch foot in the accessories. If yours did not, check with your sewing machine dealer or check our web site for availability. NOTE: Many manufacturers did not make these fittings available, even as an optional accessory. Check your manual to see if they are available. Some models use a needle position; try the left or right needle position for more fabric stability. These fittings support the fabric and help to prevent the fabric from stretching when the needle penetrates and also supports the fabric as the needle rises. Slightly increase the presser to help keep the fabric taut. Set the thread tension to produce a balanced stitch.
Launder your fabric before cutting out your pattern to remove sticky permanent press solutions. Clean your needle often with alcohol or use needle lubricant to remove sticky build-up.

SPECIAL NOTE: The only straight stitch needle plates we have available are for Singer and Viking sewing machines. We have straight stitch presser feet for most models.

These are recommendations you as an operator can and should perform, however if your sewing machine continues to skip stitches, it is most likely out-of-time in which case you will need to take it to your nearest certified sewing machine technician.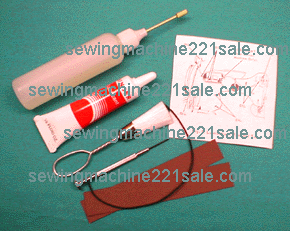 Operator Maintenance Kit
$12.95
*High quality oil in refillable extendable spout. Long neck spout style of oiler #NK2 may vary depending on availability.
*Lubricant for gears
*Lint brush
*Extra fine quality screw driver for tension adjustments
*2 strips of crocus cloth for removing burs on hook, etc.
*6" abrasive cord #52 for removing burs in and around needle plate, etc.
*Oil and lubricant instructions pamphlet for various models
ADD BASIC S&H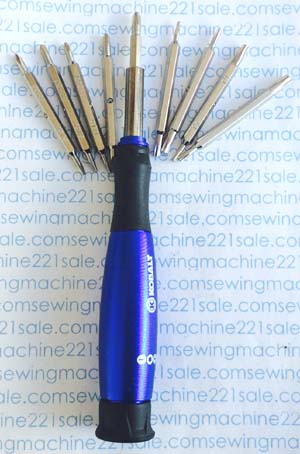 Mini Precision Screwdriver Set (Bin T-4)
$9.95
Small compact set includes compact bit holder or store bits in handle
Set includes: Slotted: 1/8", 3/32", 5/64", 5/64", 1/16"
Phillips: PH000, PH00, PH00, PH0, PH1
Torx star: T4, T5, T6, T7, T8, T9, T10, T15
ADD BASIC S&H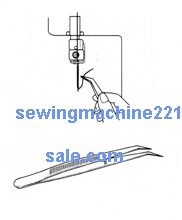 Tweezers #TWE6
$3.95
Top quality tweezers with guide pin
6" long with bent point design.
The best tool in your accessory box. Ideal for threading needles on sewing machines and needles and loopers on sergers. Many other practical sewing uses: removing thread and lint build-up from small areas in the sewing machine, pulling out unwanted stitches, etc.
ADD BASIC S&H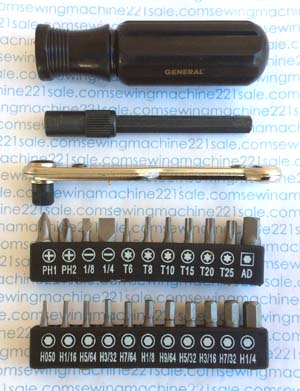 Small Tools, Driver Set with Offset Ratchet (Bin-T-1)
$17.95
Sewing machine and other small appliances require different tools than your car or home
This set is a great place to start
Set contains one each: reversible ratchet handle, spinner screwdriver handle, 3 1/4" extension handle
One each of the following bits
Slotted screwdriver: 1/8", 1/4"
Phillips screwdriver: PH#1, PH#2
Hex: .050", 1/16", 5/64", 3/32", 7/64", 1/8", 9/64", 5/32", 3/16", 7/32", 1/4",
Torx: T6, T8, T10, T15, T20, T25
ADD BASIC S&H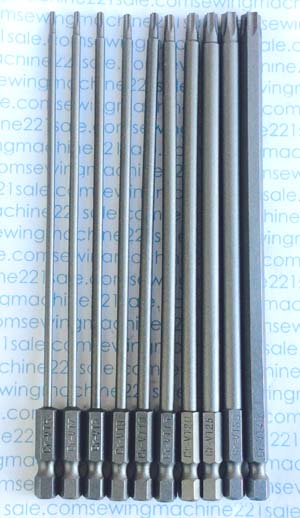 Torx Bit Set 5" Long with Thin Shaft (Bin T-2)
$16.95
Sewing machine and other appliances require a long thin shaft for getting into confined areas
5" long with a standard 1/4" hex shaft
Set includes one each: T6, T7, T8, T9, T10, T15, T25, T30, T40
ADD BASIC S&H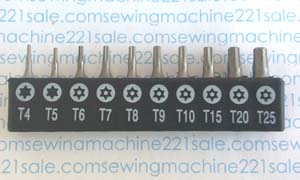 Torx Bit Set Small (Bin T-3)
$13.95
Hard to find Torx bits, standard 1/4" hex shaft
Set includes: T4, T5, T6, T7, T8, T9, T10, T15, T20, T25
ADD BASIC S&H





Email: sewingmachine221sale@pop.bizland.com
This web site is owned and operated by:
Discount Sewing Machine Service ©2000
Site contains material that are trademark TM and servicemark SM.
All material is for personal use only and is not to be mass produced.
Pages constructed and maintained by Kas