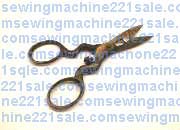 Old Style Buttonhole Scissors****
$0.00
SOLD OUT
J. A. Hendckels twin works, Germany
Great antique buttonhole scissors.
FREE S&H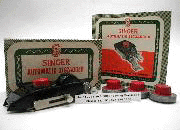 Singer Automatic Zigzagger #161157 with cams
$0.00
SOLD OUT
Fits Featherweight 221, 201, 222, 15 class, 191, 1200, 66 class and other low vertical needle machines.
PLEASE NOTE: This is pictured with a top to the box, however this is our last one and it does NOT have a top to the box.
Does come with bottom of box, 4 cams and book.
On the shopping cart choose F/I $5.95 for S&H
and then click recalculate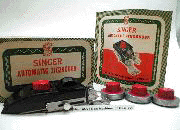 Singer Automatic Zigzagger #160986 or #161103
$95.00
Automatic Zagzagger with cams. Fits most 301 and other Singer slant needle machines.
On the shopping cart choose F/I $5.95 for S&H
and then click recaculate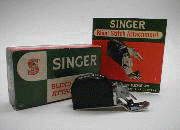 Singer Blindstitch #160742; 1951
$85.00
Fits 301 and other Singer slant needle machines. Box and instruction book. Also #86649 for 221 Featherweight. Has book no box FREE S&H



Singer Craft #121079; 1933
$90.00
Fits all machines.
Very hard to find this item.
Makes yarn fringe for rugs, mats, chair backs and seat covers or similar articles.
Box and book.
FREE S&H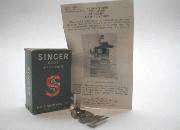 Singer Edge Stitcher #36865
$34.95
For Featherwieght 221 and other vertical needle machines.,
Comes with box and reprint manual.
ADD BASIC S&H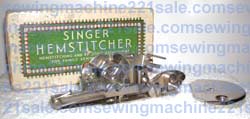 Singer Hemstitcher (bin 4) and Picot Edger #121387 with Plate #121389****
$0.00
SOLD OUT
Singer hemstitcher and picot edger #121387 comes with plate #121389 which is for Singer models 99 class and 66 class (EXCEPT 66-1 and 66-3 back mount). Also comes with attachment screw #51347A.
Original box and a black and white reprint manual.
ADD BASIC S&H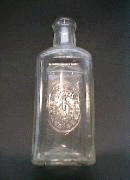 Singer Oil Bottle****
$0.00
SOLD
Shuttle and crossed needles, Singer trade-mark Embossed in glass. A RARE find. Excellent condition. FREE S&H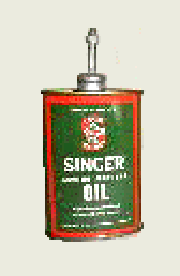 Singer Oil Can
$38.00
Only one available
ADD BASIC S&H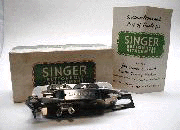 Singer Old Style Buttonholer Attachment #121795 / 121704
$65.00
#121795 no box & #121704 with box for vertical needle machines.
Heavy duty construction, requires no templates.
Comes with reprint manual.
On the shopping cart choose #121795 no box or #121704 with box.
On the shopping cart choose F/I $5.95 for S&H
and then click recaculate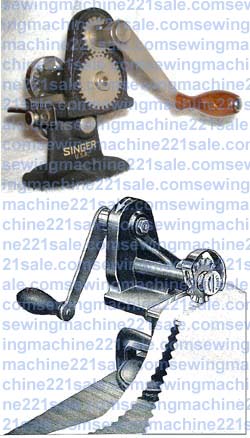 Singer Pinking Machine # 121379SOLD

$0.00
SOLD
Original No Longer Available as new.
1935 hand operated pinking machine table mount, crinkle finish comes with #142-2 C-clamp (not original clamp) for mounting on the edge of a table.
Also comes with black and white reprint manual
The Singer pinking machine makes an attractive and functional pinked edge to help prevent the edges of the fabric from unraveling.
On the shopping cart choose F/I $5.95 for S&H and then click recaculate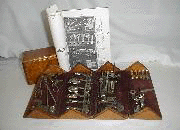 Singer Puzzle Wood Attachment Box****
$0.00
No Longer Available
Box sold with attachments and reprint book.
On the shopping cart choose F/I $5.95 for S&H and then click recaculate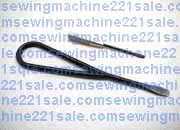 Singer Screw Driver Large
$18.00
ADD BASIC S&H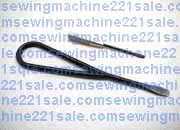 Singer Screw Driver Small
$24.00
ADD BASIC S&H



Singer Stitch Patterns for Automatic Zigzagger
$28.00
SOLD
Cams, box and reprint book.
This item is Freight Intensive (F/I), $6.95 is the basic S&H for ALL Freight Intensive (F/I) items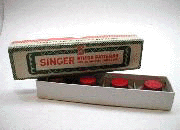 Singer Stitch Patterns for Automatic Zigzagger #161008
$0.00
SOLD
Cams, box and book.
This item is Freight Intensive (F/I), $6.95 is the basic S&H for ALL Freight Intensive (F/I) items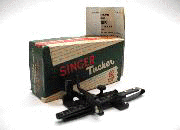 Singer Tucker #36583; 1952
$75.00
Fits most Featherweight 221 and other vertical needle Singers (15,66,99,195,201,222,1200) Box & book included. FREE S&H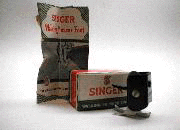 Singer Walking Presses Foot #160741;1953
$0.00
SOLD
221 Featherweight and other Singer vertical needle machines. Box and book included. FREE S&H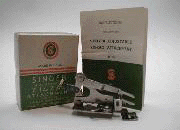 Singer ZigZag Attachment #121706; 1939****
$0.00
SOLD OUT
Fits Featherweight 221, Singer 101 and other Singer vertical needle machines. Box and book. FREE S&H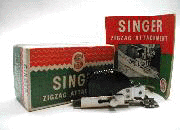 Singer ZigZag Attachment #160620; 1950****
$0.00
SOLD OUT
Fits Featherweight 221 and other Singer vertical needle machines. Box and book included. FREE S&H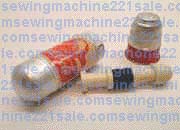 Travelers Sewing Kit #1
$125.00
"Coca-Cola" sewing kit. Excellent condition.
Closed it measures 2 1/4" long.
Has the "CocaCola" boy saluting logo.
Has a thumble use as top lid of the aluminum container.
Inside container has black thread on the spool, screw off cap where one needle is stored.
FREE S&H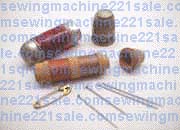 Travelers Sewing Kit #2
$65.00
"White's Sewing Center, Seymour, Ind., Phone 65-L" Very old, complete, not perfect. FREE S&H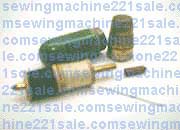 Travelers Sewing Kit #3
$85.00
The Hathaway Funeral Home, Columbus, Ind. Phone #3 Good condition, complete, brass thimble. FREE S&H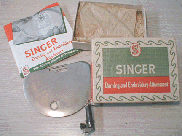 Singer Darning and Embroidery Attachment #160719
$0.00
SOLD
Singer darning and embroidery attachment complete with plate, foot, instruction booklet and box with tissue paper.
FREE S&H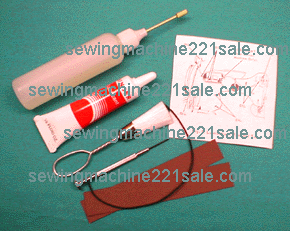 Operator Maintenance Kit
$12.95
*High quality oil in refillable extendable spout. Long neck spout style of oiler #NK2 may vary depending on availability.
*Lubricant for gears
*Lint brush
*Extra fine quality screw driver for tension adjustments
*2 strips of crocus cloth for removing burs on hook, etc.
*6" abrasive cord #52 for removing burs in and around needle plate, etc.
*Oil and lubricant instructions pamphlet for various models
ADD BASIC S&H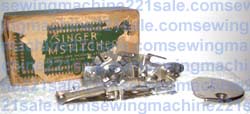 Singer Hemstitcher (bin #1) and Picot Edger #121387 with Plate #121389****
$0.00
SOLD OUT
Singer hemstitcher and picot edger #121387 comes with plate #121389 which is for Singer models 99 class and 66 class (EXCEPT 66-1 and 66-3 back mount). Also comes with attachment screw #51347A.
Original box and a black and white reprint manual.
ADD BASIC S&H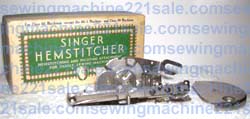 Singer Hemstitcher (bin #2) and Picot Edger #121387 with Plate #121073 (121389)****
$0.00
SOLD OUT
Singer hemstitcher and picot edger #121387 comes with plate #121073 (121389) which is for Singer models 99 class and 66 class (EXCEPT 66-1 and 66-3 back mount). Attachment screw has been substitued with smaller but functional screw.
Original box and a black and white reprint manual. ADD BASIC S&H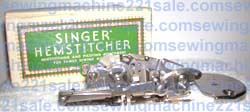 Singer Hemstitcher (bin #3) and Picot Edger #121387 with Plate #121389
$85.00
Singer hemstitcher and picot edger #121387 comes with plate #121389 which is for Singer models 99 class and 66 class (EXCEPT 66-1 and 66-3 back mount). Also comes with attachment screw #51347A.
Original box and a black and white reprint manual.
ADD BASIC S&H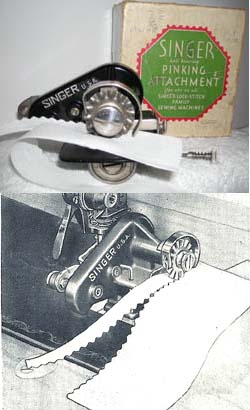 Singer Pinking Sewing Machine Attachment #121021
$135.00
Singer pinking machine attaches to Singer lock-stitch Family Sewing Machine including but not limited to 66 class (except 66-1 and 66-3 back mount), 99, 15 class, 201, 221 and other models requiring the low vertical system. Comes with special mounting screw.
Original box and a black and white reprint manual.
Remove your regular presser foot and screw. Attach the pinking attachment, the up and down motion of the needle operates the cutting system.
The Singer Pinking Attachment makes an attractive and functional pinked edge to help prevent the edge of fabric from unraveling.
On the shopping cart choose F/I $5.95 for S&H and then click recaculate.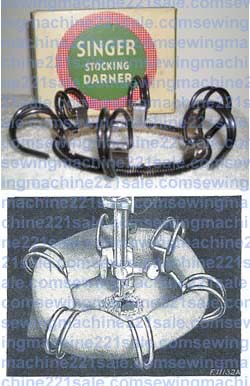 Singer Stocking Darner #35776
$49.95
Original rare to find in this good of a condition.
Singer sticking darner and free motion hoop.
Spring type hoop measures approximately 3" X 2 3/8"
ADD BASIC S&H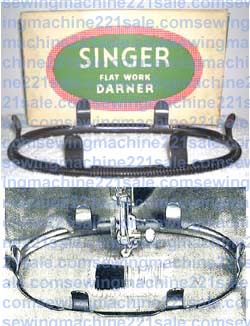 Singer Flat Work Darner #36088****
$0.00
SOLD OUT
Original rare to find in this good of a condition.
Singer flat work darner and free motion hoop.
For best results use a feed cover plate designed for your model machine or all purpose darning plate #P60402 (see below) or on some models use the "feed throw-out devise (drop feed)"
Please note: The picture shows a darning foot, this foot is not included.
Because it does not attach to the sewing machine it can be used on any lock stitch straight stitch or zig-zag sewing machine.
Spring type hoop measures 6" X 3"
ADD BASIC S&H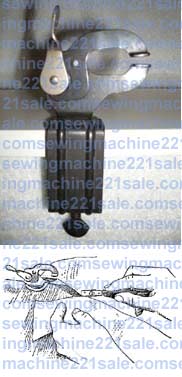 Singer Gripper #121318 (old style)****
$0.00
SOLD OUT
Singer gripper (black in color)
We added some new green felt. This is an older style gripper which can be turned to any desired position after clamping it to the table.
The gripper acts as a third hand, holding your material while you pin, sew or rip.
Comes with black and white reprint instructions.
ADD BASIC S&H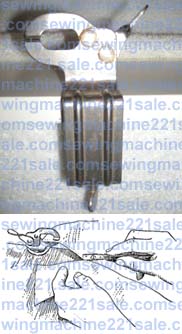 Singer Gripper #121318 (new style)
$55.00
Singer gripper (silver in color)
This is a newer style, when attached to the edge of the table it remains in a fixed position.
The gripper acts as a third hand, holding your material while you pin, sew or rip.
Comes with black and white reprint instructions.
ADD BASIC S&H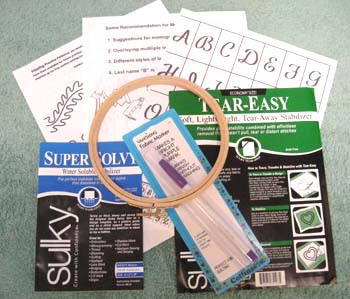 Free Motion Kit
$19.95
Free Motion kit includes :
6" top quality sewing machine hoop with heavy duty screw mechanism.
Collins #C28 vanishing marker for tracing or marking on fabric.
Sulky #751-03 tear away stabilizer (20" X 3 yards).
Sulky #405-01 super water soluble stabilizer (19 1/2" X 36").
Monogramming alphabet set (traceable & reusable).
Stippling practice patterns (9 patterns traceable & reusable).
Additional instructions included
Click on this link to learn more about "Free Motion Sewing"
This item does NOT qualify for FREE S&H it is freight intensive F/I.
ADD BASIC S&H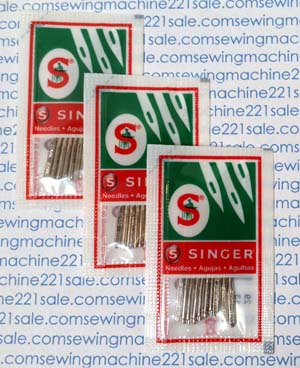 Singer Needles - 3 Pack 11-14-16 "ON SALE NOW"
$11.95
Regular price $14.85
Three packs of needles 10 per pack.
One 10 pack of size 11 for light weight fabrics.
One 10 pack of size 14 for medium weight fabrics.
One 10 pack of size 16 for heavy weight fabrics.
Singer "TOP QUALITY" needles with sharp points for maximum needle power penetration, hardened for durability, polished for smooth operation and less heat build up.
Singer needles for Singer and most other sewing machines.
Packaging may vary depending on present inventory.
ADD BASIS S&H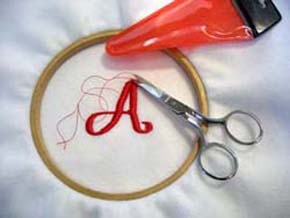 4 Inch Embroidery Scissors
$6.95
4" embroidery scissors
Fine sharp point ideal for close work in small areas
CAUTION: As in most cutting instruments the point and blades are sharp and should be handled ONLY by adults for cutting and craft use.
ADD BASIC S&H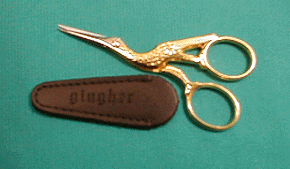 Gingher 3 1/2" Stork Embroidery Scissors (GG-ST)
$18.95
A Great addition to G-8. Unique comfortable design, ideal for close work; embroidery, thread trimming, quilting and needle art.
CAUTION: As in most cutting instruments the point and blades are sharp and should be handled ONLY by adults for cutting fabrics and craft use.
Packaging may vary
ADD BASIC S&H