google5993c5666b5daeec.html

Treadle and Vintage Singer Models
(Operator Manuals and Service Manuals)

27, 127, 28, 128, 15-30, 15-91, 15 Class, 66, 99, 201, 185, 192, 285, 301

vintage sewing machine parts for sale




NOTE: On multiple parts order pay freight for only one item. ADD BASIC S&H of $3.95
Parts order over $45.00 FREE freight. Excluding Freight Intensive (F/I) Items.




The typical set-up of early Singer sewing machine in a treadle stand. The most common class of machine the 127 "vibrating shuttle"(long bobbin) is featured above. Many other class of machines were also available in a treadle stand such as: 66-1, 15-30, 115-1 etc. this page features parts and manuals for all older class sewing machines generally any black machine: 27, 127, 28, 128, 15 class, 15-30, 15-91, 66, 99, 201, 101, 1200, 185, 192K and others also 221 & 301 click on Featherweight 221 for dedicated page.
PLEASE NOTE: Serial numbers, which are normally six digits with letter prefix may help in determining what model you have or part you need. For infromation in determing the approximate age of your sewing machine click on Machine Dating.
How do you determine what model you have??? Good question without a manual, since most older Singer's did not have the model number stamped on the machine. Below you will find the available manuals. Many vintage (old black) Singer machines had the serial number imbedded in the top right portion of the bed of the machine. However they did not have the model of the machine. To help determine your model number or to order a manual and available parts please view the pictures below. I have pictured the features of the machine and have pointed out some main characteristics to that particular model. This should be of great help. Please use our shopping cart when possible, however if you need help e-mail us.sewingmachine221sale@bizland.com

Often we are ask to put a value on these and other older model sewing machines. Due to many variables in the market place we do not value machines.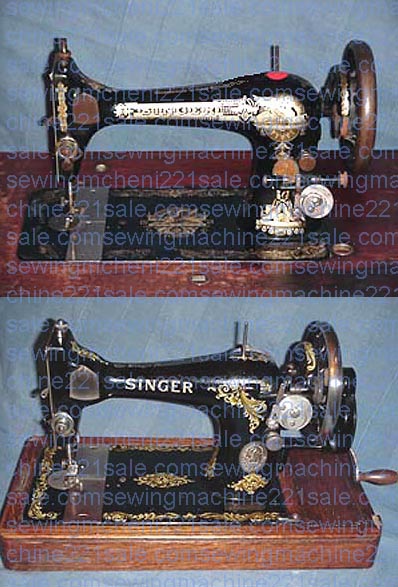 Manual for Singer 27 (Manual also 28 and,
Vibrating Shuttle #2, 127 & 128)
$19.00
#27: Full size head: length of bed 14 5/8", width of bed 7"
#28: 3/4 head, length of bed 12 5/32", width of bed 6 9/16"
Vibrating shuttle #2 available in full size or curved base (fiddle base).
Various gold ornimation, long bobbin, full size normally equipped with treadle stand. 3/4 size (#28) normally portable with hand crank or motorized with knee control or foot control. These models were manuafactured and sold in approximate time period of 1885 through 1912.
This model is viewed with the bobbin winder on the trunk of the machine, some models had the bobbin winder on top next to the hand wheel (we have added a specific page for instructions on the trunk mounted bobbin winder)
The manual will also include the instructions for using the attachments.
This manual is an upgrade copy of the original with larger print for easy read. Enhanced with additional pages of useful information and 36 illustrations.
This manual is intended for all Singer vibrating shuttle machines made between 1890 to 1940.
B/W reprint.
This manual does not contain information concerning the treadle cabinet.
ADD BASIC S&H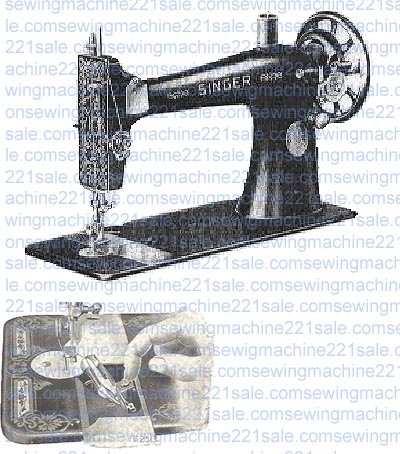 Manual for Singer 127 & 128 (manual also for Vibrating Shuttle #2, 27, 28)
$19.00
#127: Full size, Length of bed
14 5/8", width of bed 7"
#128: 3/4 head, Length of bed
12 5/32", width of bed 6 9/16"
long bobbin, bobbin winder attached to belt cover
#127 normally equipped with treadle stand
#128 normally portable with hand crank, knee control or electrified
Some plain, some with various gold ornimation. These models were manuafactured and sold in approximate time period of 1912 through 1950.
Models 127 / 128 are very similar to the models 27 / 28 with the exception of the 127 / 128 models featured the "shuttle ejector" as viewed.
Dual book, B/W reprint.
This manual does not contain information concerning the treadle cabinet.
This manual is an upgrade copy of the original with larger print for easy read. Enhanced with additional pages of useful information and 36 illustrations.
This manual is intended for all Singer vibrating shuttle machines made between 1890 to 1940.
ADD BASIC S&H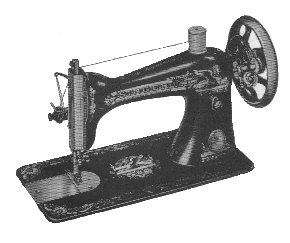 Manual for Singer 15-30 (old style 15 class)
$19.00
Full size, bobbin winder attached to belt guard, takes regular 15 class bobbins, bobbin case #JO1313(15277), bobbin loads down under left side, various gold ornimation. Tension mounted on left side, no reverse, stitch regulator is a thumb screw.
15 class B/W reprint manual.
ADD BASIC S&H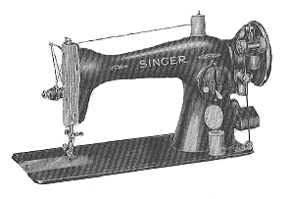 Manual for Singer 15-91
$19.00
Full size, bobbin winder attached to motor bracket, takes regular 15 class bobbins, bobbin case #125291(for 15-88, 15-90, 15-91, 15-125), bobbin loads down under left side, some gold trim
This machine is gear-drive (no belt). Electric only uses single or double lead cord depending on cabinet or portable. 15 class B/W reprint manual.
ADD BASIC S&H



Manual for Singer 15-91 (15-88)(15-89)(15-90)(15K)(Model 95)
$19.00
Same machine as 15-91 (same manual) except treadle version or could be converted to electric by attaching motor, belt, foot control and light. Can also use hand crank with spoked wheel
15 class B/W reprint manual.
ADD BASIC S&H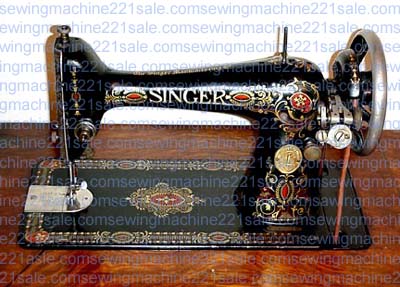 Manual for Singer 66-1, 66-4, 66-6, Model 31
$19.00
The 66 class was a valuable machine in the Singer lineup at the turn of the 20th century, made in America from 1902 thru 1956 with several modifications.
It featured a full size machine head, bobbin winder attached to the belt guard, top loading bobbin with oscillating hook system. The bobbin case stays in the machine except for cleaning and oiling. It had a round knob to regulate the stitch length. Earlier models had no reverse and did not have numbers on the tension dial.
* The first series 66-1 were in a treadle stand (66-3 was a hand crank); it had ornamentation (referred to as green eye) and was made between 1902 and 1906. Early models had a back mount presser foot.
* The 66-1 red eye was made between 1906 and 1923 /1924.
* The 66-4 started production in 1923-1924. The back mount presser foot was changed to the standard side mount.
* The 66-6 started production in 1921 with various modifications, it was originally offered as a treadle and soon as an electric model.
* The 66-K was made in Kolbowie, Scotland between 1907 thru 1940. It had a "Lotus" ornamentation.
* The model 31 was basically a 66 machine with several modifications for specific commercial applications was manufactured between 1924 and 1926
It may be said the number 66 was chosen because at that time the main office of Singer was located on 66 Lake Street in Chicago, IL (?)
B/W reprint.
ADD BASIC S&H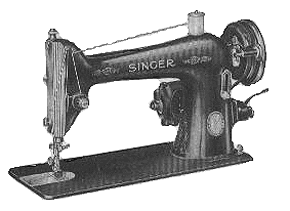 Manual for Singer 66-16 (also for 66-8, 66-14, 66-18, 66-24)
$19.00
Same as 66-1-4-6 except stitch length regulator in combination with a reverse lever
B/W reprint.
ADD BASIC S&H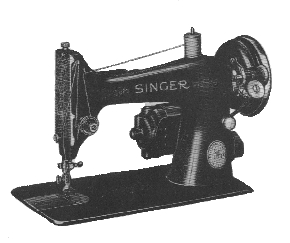 Manual for Singer 99 & 99-13 (old series)
$19.00
Was designed to be more portable, smaller in size and lighter than the 66 class.
Was offered as an electric or hand crank with spoke wheel
No reverse lever
B/W reprint.
ADD BASIC S&H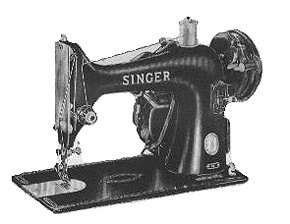 Manual for Singer 99K, 99-31, 185, 192K, 285
(SPARTAN)
$19.00
Same as 66-16 except small version:
length of bed 12 5/32", width of bed 6 9/16"
B/W reprint.
ADD BASIC S&H



Manual for Singer 201 & 201K
$19.00
Similar to 15-91 except takes 66 class bobbins #172222-M, bobbin case sets flat in machine on top left side (bobbin case stays in machine except for cleaning and oiling)
B/W reprint.
The model 201 was available in gear drive (most common), hand crank and belt drive with external motor or in treadle stand.
ADD BASIC S&H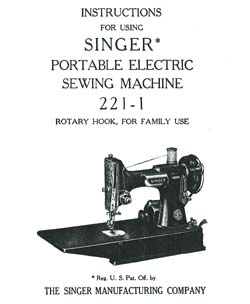 Manual for Singer 221with "Free" Bonus Parts Chart
$19.00
New enhanced reprint of the original manual with larger text for an easy read. Also includes instructions for using the attachments, contains information on operator adjustments, cleaning and oiling. 64 illustrations, over all measurement is 8 1/2" X 11", 67 lb. card stock front and back covers for durability.
As an added bonus we will include a parts chart for models 221-1, 221K1, 221K4, 221K5, 221K7. NO return on manuals.
ADD BASIC S&H