Sewing Machine Motors
All motors are pre-tested before we ship them.
Revolutions Per Minute (RPM)are tested from the motor pulley.
Motors and other electrics are for 110/120 A.C. U.S.A. unless otherwise stated.
Motors listed as "NEW are "Brand NEW".
Motors listed as "Original" are motors removed from a machine in our inventory (refurbished if needed).
Note: If you are not comfortable in replacing and rewiring electrics please take your machine and parts to your nearest sewing machine technician familiar with your model.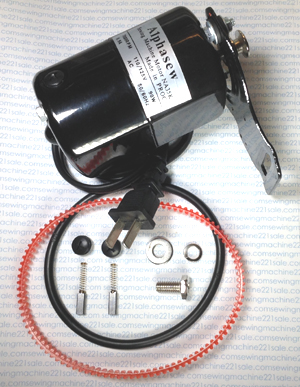 Motor with "K" Type Bracket #NA35-K Black
$29.95
Motor with "K" Type Bracket #NA35-K Black
7000RPM, 110/125 volts AC, 90 watts, 0.9 Amps, 50/60Hz
Motor is pre-tested for quality performance, comes with motor maintenance kit which includes two belts as viewed.
Has 15" cord with plug for use with #700 terminal box Terminal Box #700 Set-up. Plug can be cut off and discarded allowing the cord to be rewired for your particular set-up.
This item is Freight Intensive (F/I), $8.95 is the S&H for this Freight Intensive (F/I) item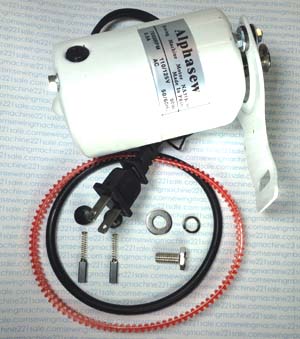 Motor with "K" Type Bracket #NA35-K White
$29.95
Motor with "K" Type Bracket #NA35-K White
7000RPM, 110/125 volts AC, 90 watts, 0.9 Amps, 50/60Hz
Motor is pre-tested for quality performance, comes with motor maintenance kit which includes two belts as viewed.
Has 15" cord with plug for use with #700 terminal box Terminal Box #700 Set-up. Plug can be cut off and discarded allowing the cord to be rewired for your particular set-up.
This item is Freight Intensive (F/I), $8.95 is the S&H for this Freight Intensive (F/I) item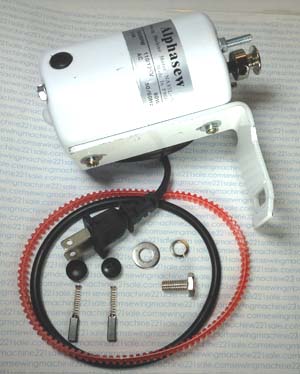 Motor with "L" Type Bracket #NA35-L White
$29.95
Motor with "L" Type Bracket #NA35-l White
7000RPM, 110/125 volts AC, 90 watts, 0.9 Amps, 50/60Hz
Motor is pre-tested for quality performance, comes with motor maintenance kit which includes two belts as viewed.
Has 15" cord with plug for use with #700 terminal box Terminal Box #700 Set-up. Plug can be cut off and discarded allowing the cord to be rewired for your particular set-up.
This item is Freight Intensive (F/I), $8.95 is the S&H for this Freight Intensive (F/I) item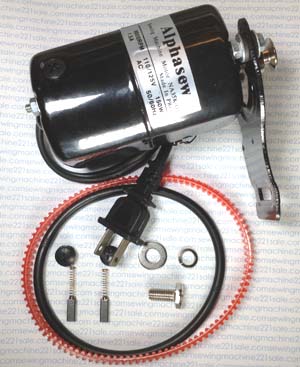 Motor with "K" Type Bracket, High Speed #NA35-K-HS Black
$39.95
Motor with "K" Type Bracket #NA35-K-HS Black
9000RPM, 110/125 volts AC, 150 watts, 1.5 Amps, 50/60Hz
Motor is pre-tested for quality performance, comes with motor maintenance kit which includes two belts as viewed.
Has 15" cord with plug for use with #700 terminal box Terminal Box #700 Set-up. Plug can be cut off and discarded allowing the cord to be rewired for your particular set-up.
This item is Freight Intensive (F/I), $8.95 is the S&H for this Freight Intensive (F/I) item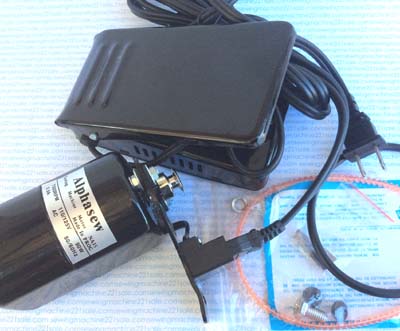 Motor with Foot Control NA35-K / 419451-003 (7)
$59.95
Motor with plug-in foot control
Requires "NO" wiring just attach motor to the side of the machine and your ready to sew.
Motor is NA35-K Black with terminal box already attached and ready to plug in foot control and cord #419451-003 (7)
Sold as viewed
Fits all models with a side motor boss for mounting an outside motor
This item is Freight Intensive (F/I), $8.95 is the S&H for this Freight Intensive (F/I) item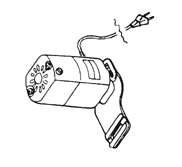 Motor #159966
$29.95
Standard replacement motor with adjustable bracket
Motor is 0.9A, 7000RPM, AC 110/125V, 90 watt, 50/60Hz
To replace old style motors no-longer available by Singer
Has 15" cord with plug for use with #700 terminal box Terminal Box #700 Set-up. Plug can be cut off and discarded allowing the cord to be rewired for your particular set-up.
Compatible with "motor maintence kit #4013/4015".
SPECIAL NOTE: Before ordering this motor make sure your machine has a motor boss (a place on the side under the hand wheel to mount the motor, this is not a part that can be added to your machine, it is formed in the machine casting.) This motor boss may not be on some of the very old treadle type machines which never had a motor or a hand crank.
This item is Freight Intensive (F/I), $8.95 is the S&H for this Freight Intensive (F/I) item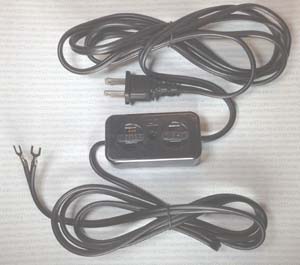 Terminal Box (bin 74) #700 with cords* (143)
$14.95
Companion electric terminal box with lead cord/plug and wires to fasten on existing foot control or control #204 (or existing knee control), also accepts light #B428/618-M and motor 159966, #NA35-K or NA35-L
Cord from terminal box to foot control or knee control measures 54" in length. Cord from terminal box to wall outlet measures 74". The terminal box measures approximately 3" long, 1 1/2" wide, 3/4" high
For additional information on terminal box #700 set-up click on this link Terminal Box #700 Set-up
This system, using the terminal box #700 is very easy, it is a matter of plug-ins (no wiring or rewiring required).
ADD BASIC S&H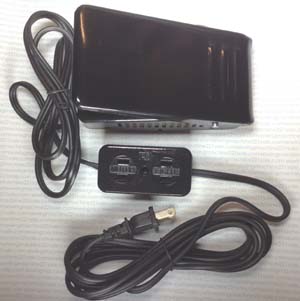 Foot Control (bin 51) #700/143 Cord-704 (204)PD
$29.95
Foot control with electric block receptacle for motor plug-in and light plug-in.
Fits older style machines.
For additional information on terminal box #700 set-up click on this link Terminal Box #700 Set-up
$8.95 is the basic S&H for ALL foot controls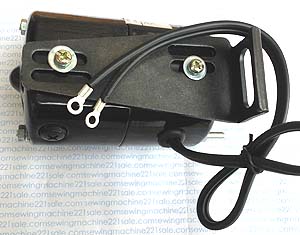 Kenmore Motor & Bracket #39963 (Replacement Motor)
$59.95
(1290)(2139)(2145)(5150)(5152)(5163)(5168)(5187)(5195)(34600)(YM-40)(50004)(50005)(32823)(35221)
Motor is 0.9A, 7000RPM, AC 110/125V, 90 watt, 50/60Hz
Fits models: 148 and 158 series where the motor is mounted internally or on the under side of the machine.
Comes with bracket.
For some machines it may be necessary to use your own bracket and in some rare cases may be necessary to drill new hole in your existing bracket.
Compatible with "motor maintence kit #4013/4015"
This item is Freight Intensive (F/I), $8.95 is the basic S&H for ALL Freight Intensive (F/I) items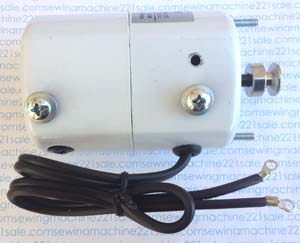 Kenmore Motor #50001ns (Replacement Motor)
$59.95
(DP50012)(1120)(202085)(2142)(5120)(5122) (5150R)(5151)(5154)(5156)(SR-5159)(5162)(5167)(5169)(5186)(5190)(5191)(5193)(6981)
Motor is 0.9A, 7000RPM, AC 110/125V, 90 watt, 50/60Hz
Fits most Kenmore machines where the motor is mounted on the out-side/on the back of the machine.
Three mounting holes drilled: two mounting holes measure 2 7/16" apart (in-line) for hinged type bracket (#3081). Additional offset hole drilled for "T" mount adjustable bracket (#202086) and bracket with terminal (250977). You must use your existing bracket.
Motor comes with two mounting screws, #820 belt, motor pulley and attached 8" lead wire.
Compatible with "motor maintence kit #4013/4015"
This item is Freight Intensive (F/I), $8.95 is the basic S&H for ALL Freight Intensive (F/I) items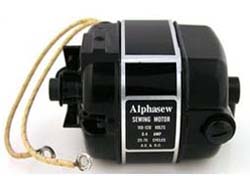 221 Motor 110volt #98376-004 Black
$119.95
Fits Featherweight 221 and 222
New by Alpha-Sew motor (no longer available by Singer).
Black original style, standard USA 110-120 volt. Input 70Watt, 0.4 amp., 25-75 cycles, 5500 R.P.M.
This item does not qualify for the $35.00 free freight offer. It is F/I Freight Intensive choose $8.95 for S&H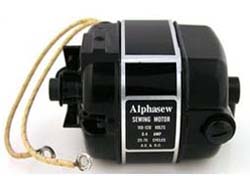 221 Motor 220volt #98376-000 (Black ONLY)
$119.95
Black ONLY original style, 220volt
Fits Featherweight 221 and 222
New by Alpha-Sew motor (no longer available by Singer)
This item does not qualify for the $35.00 free freight offer. It is F/I Freight Intensive $6.95 for S&H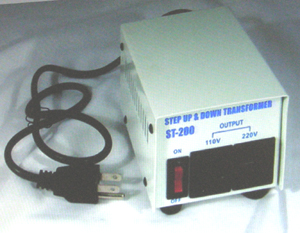 Motor Voltage Transformer #ST-200
$69.95
Converts 110 volt motor to 220 volt or a 220 volt motor to 110 volt, 200 watt
This item is Freight Intensive (F/I), $15.00 is the basic S&H for ALL Freight Intensive (F/I) items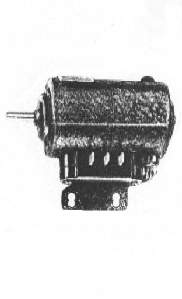 Rotary Motor - Original
$119.95
110 volts, 65 watts, 75 cycles
Motor comes with spring-loaded bracket that mounts on the back of the machine. Can be adjusted slightly up and down.
New motors are no longer available. We have removed these motors from machines in our inventory. They have been tested for quality performance. This type motor was interchangeable with many rotary models made in 1930, 1940 and 1950. Including: White, Domestic, Kenmore and others. Nameplate label and color may vary depending on present inventory.
Special note: You may request the color of the motor (such as black, dark green, dark maroon, dark brown, etc.) However if your color is not available we will ship the closest color available.
Motor does not come with pulley (rubber friction wheel) you will need to use your existing pulley or order pulley #409, 417 or 410. You will also need to use your existing control system or order foot control #704-204 with 723 cord.
This item is Freight Intensive (F/I), $12.95 is the basic S&H for ALL Freight Intensive (F/I) items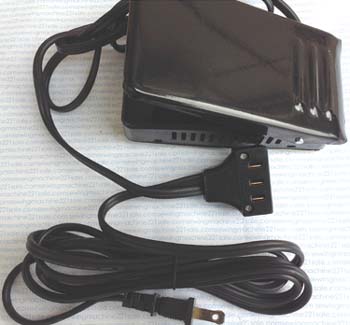 Foot Control (bin 68/77) FC-6605, 704/204 with #723 Cord
$39.95
Fits many rotary type machines.
$8.95 is the basic S&H for ALL FOOT CONTROLS and does NOT qualify for Free S&H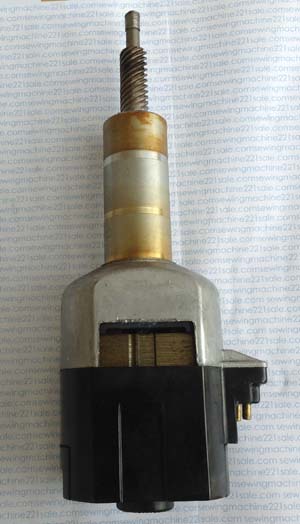 Singer "Original" Motor 500 Slant #PA10-8 #625364-005
$128.00
Original motor removed from a machine in our inventory
VERY LIMITED SUPPLY
Tested for quality performance
Fits Singer: 500, 503, 600, 603, 604
This item is Freight Intensive (F/I), $12.95 is the S&H for this Freight Intensive (F/I) item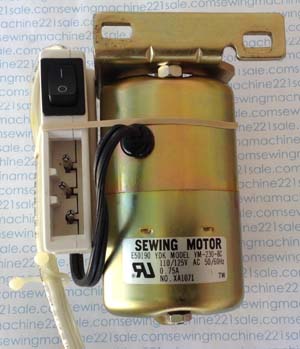 Brother / Babylock Motor #XA1071051
$69.95
(XA1071321)
Sells new for $108.99
Removed from a machining our inventory
Tested for quality assurance at 5400 RPM from motor pulley
Has built-in on / off switch with 8" light lead wire
Fits Brother: LS1217, LS1520, LS2125, LS2125I, LS2220, LS2720, LS2725, LS2820, LS2825, LS2920, PX100, PX150, PX200, PX300, RS15, RS25, RS35, VX1120, VX1125, VX1140, XL5010, XL5011, XL5012, XL5020, XL5021, XL5022, XL5030, XL5031, XL5032, XL5050, XL5060, XL5070, XL5100, XL5130, XL5200, XL5232, XL5300, XL5340, XL5500, XL5600, XL5700
Babylock: B15, B17, B21, BL37
This item is Freight Intensive (F/I), $8.95 is the basic S&H for ALL Freight Intensive (F/I) items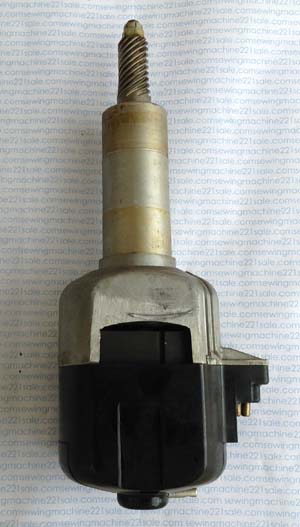 Singer "Original" Motor 301 Slant #PA2-8 #618642-008
$127.00
(SS NO. AU 52-18-1)
Volts 110-120, Amps 0.53, CYC. 27-75+DC
Original motor removed from a machine in our inventory
VERY LIMITED SUPPLY
Tested for quality performance
Fits Singer: 301
This item is Freight Intensive (F/I), $12.95 is the S&H for this Freight Intensive (F/I) item


Free Motion Guide Grip
$39.95
Fits ALL machines.
No need to place your fabric in a hoop for free-motion sewing. Place on top of fabric for free-motion, quilting, embroidery or monogramming. The friction surface on the underside of the guide grip holds the fabric taut and provides handles for moving the fabric. Set your machine for normal free-motion sewing according to your operators manual.
Note: For free-arm models works best with your sewing machine extension plate attached.
Some fabrics especially light weight fabrics may require a stabilizer. Some projects may require the conventional two piece wood hoop.
NOTE: For additional information click on this link "How to do Free Motion Sewing"
This item is Freight Intensive (F/I), $8.95 is the basic S&H for ALL Freight Intensive (F/I) items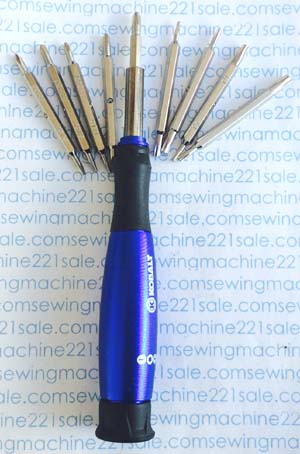 Mini Precision Screwdriver Set (Bin T-4)
$9.95
Small compact set includes compact bit holder or store bits in handle
Set includes: Slotted: 1/8", 3/32", 5/64", 5/64", 1/16"
Phillips: PH000, PH00, PH00, PH0, PH1
Torx star: T4, T5, T6, T7, T8, T9, T10, T15
ADD BASIC S&H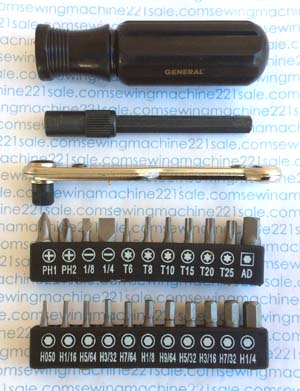 Small Tools, Driver Set with Offset Ratchet (Bin-T-1)
$17.95
Sewing machine and other small appliances require different tools than your car or home
This set is a great place to start
Set contains one each: reversible ratchet handle, spinner screwdriver handle, 3 1/4" extension handle
One each of the following bits
Slotted screwdriver: 1/8", 1/4"
Phillips screwdriver: PH#1, PH#2
Hex: .050", 1/16", 5/64", 3/32", 7/64", 1/8", 9/64", 5/32", 3/16", 7/32", 1/4",
Torx: T6, T8, T10, T15, T20, T25
ADD BASIC S&H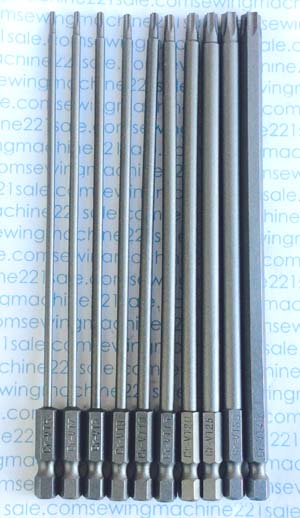 Torx Bit Set 5" Long with Thin Shaft (Bin T-2)
$16.95
Sewing machine and other appliances require a long thin shaft for getting into confined areas
5" long with a standard 1/4" hex shaft
Set includes one each: T6, T7, T8, T9, T10, T15, T25, T30, T40
ADD BASIC S&H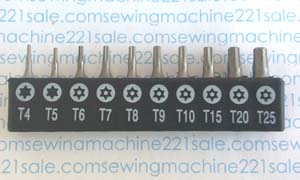 Torx Bit Set Small (Bin T-3)
$13.95
Hard to find Torx bits, standard 1/4" hex shaft
Set includes: T4, T5, T6, T7, T8, T9, T10, T15, T20, T25
ADD BASIC S&H