Store Policies



Welcome, this page will provide you with links to information concerning our various store policies. Simply select from the links below.


Ordering Information: Help in using ordering form.

PRODUCTS: Unless other wise noted all of our products are intended for normal home sewing use. They are not intended for use related to; commercial, industrial, manufacturing, mass production, upholstery or for any use we have omitted other than normal home sewing.
Please consult your manual or place of purchase to determine your model number or type of machine you have to help you in choosing the correct items you need.
We reserve the right to change product image, word descriptions and prices without notice.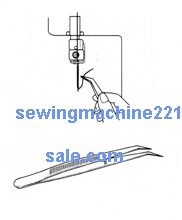 Tweezers #TWE6
$3.95
Top quality tweezers with guide pin
6" long with bent point design.
The best tool in your accessory box. Ideal for threading needles on sewing machines and needles and loopers on sergers. Many other practical sewing uses: removing thread and lint build-up from small areas in the sewing machine, pulling out unwanted stitches, etc.
ADD BASIC S&H






Email: sewingmachine221sale@pop.bizland.com
This web site is owned and operated by:
Discount Sewing Machine Service ©2000
Site contains material that are trademark TM and servicemark SM.
All material is for personal use only and is not to be mass produced.
Pages constructed and maintained by Kas