Machine Dating

INFORMATION FOR USE IN DETERMINING THE
APPROXIMATE AGE OF SINGER SEWING MACHINES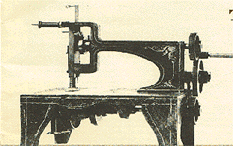 As a point of interest, this model, for which Singer obtained a patent (PT.#8294), bears the serial number 22 which dates it to 1850. Singer was granted his patent on August 12, 1851.

From 1850 to 1858 Singer produced only heavy manufacturing sewing machines. The first machine for family use, Singer's new "Family" sewing machine, was manufactured from 1858-1861. The second-style family machine was called " Traverse Shuttle Machine-Letter A;" it was manufactured form 1859-1865. The third family machine "New Family" was manufactured form 1865-1883. In 1883 the "Improved Family" machine appeared and in 1885 the VS1 (Viberating Shuttle), in 1886 the 27 / 28 and in 1912 through the 1950's 128 / 128 were manufactured and sold.

BELOW YOU WILL FIND THREE TABLES THAT WILL HEPL YOU TO RESEARCH THE APPROXIMATE TIME PERIOD YOUR SINGER MACHINE WAS MANUFACTURED BY USING THE SERIAL NUMBER OR SERIES LETTER DESIGNATION. THIS INFORMATION SHOULD NOT BE USED TO DERTIMINE SEWING MACHINE VALUE.

Spacial Note: No actual date or month can be provided since serial numbers give only approximate year .

To help determine your MODEL NUMBER please click on Treadle & Vintage Singer Models to view a model that lookes like your machine.


| | | | | | |
| --- | --- | --- | --- | --- | --- |
| Serial Number | Year | | | Serial Number | Year |


During WWII some Singer manuafacturing records were lost.
These records include the following starting with letter prefix A, C, E, M, T, W and X series in front of the serial numbers.
The information that is available see below:

| | | |
| --- | --- | --- |
| Serial Number | Year | Manufacture Location |
| | | |
| --- | --- | --- |
| Plate Number Series | From | -Manufacturd Location- |
Free Motion Guide Grip
$39.95
Fits ALL machines.
No need to place your fabric in a hoop for free-motion sewing. Place on top of fabric for free-motion, quilting, embroidery or monogramming. The friction surface on the underside of the guide grip holds the fabric taut and provides handles for moving the fabric. Set your machine for normal free-motion sewing according to your operators manual.
Note: For free-arm models works best with your sewing machine extension plate attached.
Some fabrics especially light weight fabrics may require a stabilizer. Some projects may require the conventional two piece wood hoop.
NOTE: For additional information click on this link "How to do Free Motion Sewing"
This item is Freight Intensive (F/I), $8.95 is the basic S&H for ALL Freight Intensive (F/I) items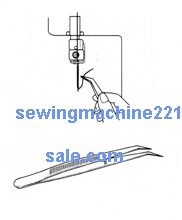 Tweezers #TWE6
$3.95
Top quality tweezers with guide pin
6" long with bent point design.
The best tool in your accessory box. Ideal for threading needles on sewing machines and needles and loopers on sergers. Many other practical sewing uses: removing thread and lint build-up from small areas in the sewing machine, pulling out unwanted stitches, etc.
ADD BASIC S&H






Email: sewingmachine221sale@pop.bizland.com
This web site is owned and operated by:
Discount Sewing Machine Service ©2000
Site contains material that are trademark TM and servicemark SM.
All material is for personal use only and is not to be mass produced.
Pages constructed and maintained by Kas