google5993c5666b5daeec.html




Light Bulbs & Sockets





NOTE: On multiple parts order pay freight for only one item.
ADD BASIC S&H of $3.95
Parts order over $45.00 FREE freight. Excluding Freight Intensive (F/I) Items.

To help identify the correct bulb, we recommend you first remove the bulb from the machine so you can match your bulb with the pictures, model numbers and watt and voltage. Also consult your manual for the proper bulb selection.
Please note: not all model number are listed.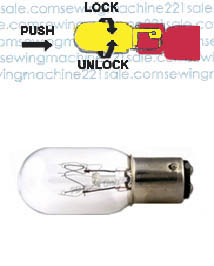 Light Bulb #676 (676F)
$2.95
(194120)(777910-002)(4PCW-PD)(6797)(3815)(72936)(4620)(000009803)(549887-003)(194120-019)(358207-120)(930144480)(60,062)
Bayonet type (push-turn), 120 volt, 15 watt
Smaller glass for easy replacement
Most common for Singer, Kenmore & many other brands.
To help identify the correct bulb remove your old bulb first to compare.
Before you replace the bulb on any sewing machine you MUST un-plug your electrical cord from the wall outlet.
ADD BASIC S&H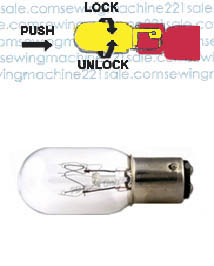 Husqvarna Viking Light Bulb #820407 (670)(2PCW-V)
$3.95
(60703)(988076-001)(205880)
Bayonet type (push-turn)
120 volt, 25 watt
Fits Alphasew: 653FA, 221
Babylock: BL300, BL430, BL432, BL1506, BL5030, BL5040, BL5040L
Viking: 19E, 21E, 6430, 1020, 1030, 1040, 1060, 6030, 6170, 6230, 6240, 6260, 6270, 6360, 6370, 6430, 6440, 6460, 6470, 6570
Janome(Newhome): 108
Kenmore: 158.1561281, 385.17724 & 385.1249280
Riccar: RL624, RL634E, RL634DE, RL624E
Simplicity: SL415, SL803, SL804, SL804D, SL843, SL1650, SL6220
Singer: 221, 252, 290, 2440, 2502, 2503, 2504, 2505, 2515, 2517, 2530, 2543, 3270, 3314, 3317, 3343, 457, 4617, 4830, 5050, 5825, 5830, 5838, 57815, 57817, 57820, 57825, 6110, 9110, CM17, DX14, FM17, FM22, SM14
White: 693FA
ADD BASIC S&H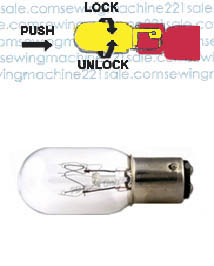 Light Bulb220 Volt #2PCW-220
$3.99
(60703)(988076-001)(205880)
220 volt, 15 watt
Bayonet type (push-turn)
For European use and other countries requiring 220 volt
Fits Singer 222
ADD BASIC S&H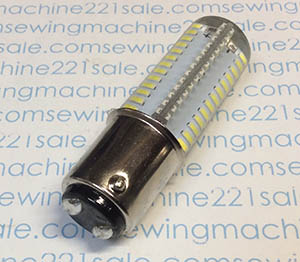 Light Bulb "New LED" Bernina, Pfaff, Viking #026367000 LED
$9.95
2PCW-LED, (0236367000)(R22X57)(326007141)(R22X60)(00236365000)(00316870000)<(70-251600-31/000)
U.S.A. voltage 110/120 volts, 15 watt
Replaces older style conventional light bulbs "Push & Turn"
Over all length approximately 2 1/6" (54mm) glob length 1 3/8" (35mm)
New style LED soft globe for easy replacement "Bright /White Light", puts out less heat
Fits Bernina: 530, 534, 540, 640, 642, 700, 701, 707, 708, 709, 710, 717, 729, 730, 732, 740, 750, 801, 801S, 802S, 803S, 807, 808, 809, 810, 811, 817, 819, 830, 831, 832, 840, 850, 900, 910, 930, 931, 932, 940, 950, 1000, 1000+, 1001, 1004, 1005, 1006, 1010, 1011, 1015
Pfaff: 130, 230, 259, 260, 262, 280, 290, 330, 332, 360, 362, 521, 541, 721, 741, 800, 875, 905, 933, 955, 1006, 1007, 1010, 1037, 1047, 1050, 1051, 1067, 1069, 1071, 1147, 1150, 1151, 1171, 1196, 1197, 1211, 1212, 1213, 1214, 1216, 1217, 1222, 1229, 1371, 1467, 1469, 1471, 1472, 1473, 1475, 1520 select, 1530 select, 1540 select, 2170, 4240, 4250, 4260, 6085, 6091, 6112, 6122, 6152, 6230, 6232, 6250, 6270, 7510, 7530, 7550, 7560 & 7570
ADD BASIC S&H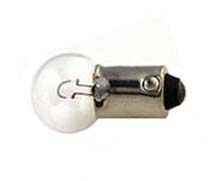 Light Bulb #418G1010A (419088)
$3.95
(141000356)
12 Volt, 5/6 Watt
Fits Babylock: BL3200, BL5180, BL3-417, BL3-418, BL3-426, BL4-428, BL4-436, BL4-436DF, BL4-625 & BL4-714
Riccar: RL613 & RL613E
Simplicity: SL660, SL850, SL880 & SL880D
Singer Serger (Overlock): 14U series up to and including 14U286, 14U34B, 14U44, 14U64A, 14U234B
White: 1500 SpeedyLock, 1600 SpeedyLock
Please note: This bulb has been redesigned with a smaller glass globe for less heat disbursement.
ADD BASIC S&H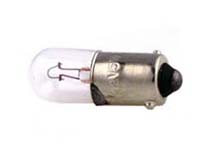 Light Bulb #387269 (388379)(283318)(ML350812)(387269PD)
$7.95
11362)(29-924993-81/475)
12 Volt, 5 Watt
Pfaff: 4862, 4852, 4872 & 4874
Singer: Quantum CXL, Quantum DSX, Quantum LE, Quantum SX, Quantum SX-100, Quantum XL-1, Quantum XL100, Quantum XL150, XL, CLX, CXL100, 14U595
ADD BASIC S&H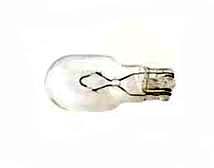 Light Bulb #605282-002
$3.95
12 Volt, 10 Watt
Fits: Singer 2001, 2010
ADD BASIC S&H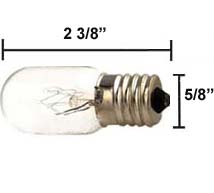 Light Bulb #658 (5579)(666)(2SCW)(8SCW)
$2.95
120 volts, 15 Watt, 5/8" screw-in, most common of rotary type.
Fits: White 41 & 43 and many others.
To help identify the correct bulb remove your old bulb first to compare.
This is the replacement bulb for 8SCW which is NLA
ADD BASIC S&H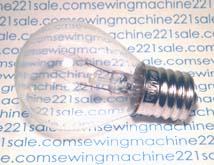 Light Bulb #8SCW (653)(195148)****NLA****
$0.00
****No Longer Available****
Please see replacement bulb #658 above
120 volts, 15 watt, 5/8" large screw-in, large round glass
Fits: 99, 185 and other older style Singers
ADD BASIC S&H



Light Bulb #643
$2.95
(X53061050)(7SCW)(9SCW)(S-005120021)(S-549887)(EE0131000)(EE0171000)
120 volts, 15 Watt, 7/16" screw-in
Fits many Brother machines, White, Singer and others requiring 7/16" screw-in type bulb.
Fits Singer 3800 series, 3709, 3722, 4800 series, 6510, 7350, 7360
Brother Xl3100, XR31, XR32, Boutique and others
Viking 535D serger
Babylock 5260D
To help identify the correct bulb remove your old bulb first to compare.
ADD BASIC S&H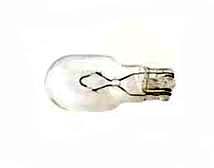 Light Bulb #979603-001(BR)
$3.95
(XA2037051)(XA2037001)(000026002)(479001-10) (4117810-03)(411 78 10-03)(0075355000)(4131818-01)(396001-36, 14v 3w)
12 Volt 5 Watt
Fits: Singer 9143, 9210, 9217, 9240, 9924
Elna: 3210, 3230, Elna Club 5000, 6000, 6001, 6600, 7000, 7100, 8000, 8600, 9000, Diva, L-4DE, L-4DC, L-5DC, PRO4DC, PRO5DC, 704DEX, 904DCX, 905DCX, 925DCX
Babylock: ESE, ESN, ESP
Bernina: 120, 125, 130, 135, 145, 140, 150, 153, 155, 160, 163, 165, 170, 180, 190 & 200
Brother: CS8072, PC3000, PC8200, PE8200, PE8500, ULT2001
Kenmore: 385.19606
Janome/New Home: 1600P-DB, 1600P-QC, 3018, 4623, 4900MC, 6125, 6260, 6260QC, 6500, 6500MC, 6600, 8048, 8077, DC3018, DC3050, HT2008LE, MC9500 and Sew Precise
Viking: #1+, Scandinavia 300, 350, 400, 415, 425, 500, 530, 535, 540, 545, 550, 555, 600, 605, 910, 936, 940, 945, 950, 960, 980, 990, 1040, 1050, 1060, 1070, 1090, 1100, 1140, 1200, 1250, Angelica, C10, C20, Designer 1, Designer 2, Facette, Freesia, Prisma, Rose, Orchidea, Lily, Lisa, Iris, Victoria
Necchi: 6150
Pfaff: Smart 200C
ADD BASIC S&H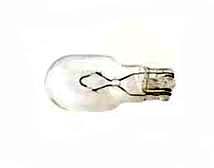 Light Bulb #411 78 10-01 (411 78 10-03)
$3.95
(979603-001)(0075355000)(000026002)(479001-10)
12 Volt, 5 Watt
Bernina: 120, 125, 130, 135, 145, 140, 150, 153, 155, 160, 163, 165, 170, 180, 190 & 200
Elna: 3210, 3230, 6001, 6600, 7100, 8600
Viking: #1, #1+, Designer I, Designer II, Scandinavia 300, 350, 400, 415, 425, 500, 530, 535, 540, 545, 550, 555, 600, 605, 900, 910, 936, 940, 945, 950, 960, 980, 990, 1040, 1050, 1060, 1070, 1090, 1100, 1140, 1200, 1250, Angelica, C10, C20, Facette, Freesia, Prisma, Rose, Orchidea, Lily, Lisa, Iris & Victoria
Janome (New Home): 1600P-DB, 1600P-QC, 6125, 6260, 6500, 6600, 8077, DC3018, DC3050, MC9500, Sew Precise
Necchi: 6150
Pfaff: Smart 200C
Singer: 9143, 9210, 9217, 9224 & 9240
ADD BASIC S&H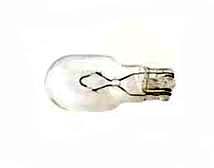 Light Bulb 9 Volt #X50228001
$3.95
(X50228051)(31082-T)
9 Volt, 3 Watts
Fits Babylock: BL60E, BL1556, BL2100, BL2160, BL2400, BL6000, BL6600, BL6700, BL8500, BL8800, BL9500, ESI, ESI2, EM1, EM2, EMI1
Bernina: 130, 140, 150, 160, 170, 180, 800, Deco 500, Deco 600
Brother: XL2027, XL4010, XL4020, XL4030, XL4050, XL4060, 7029, XL4040, 730DE, 760DE, PC4000, PC5000, PC6000, PC7000, PC7500, PC8000, PC9000, PE100, PE150, PE180D, PE200, PE300S, PE400D, PL1500, PL2000, PL2100, PS1700, PS1900, PS1950, PS2100, VX920, VX940, VX950, VX970, VX980, XL3010, XL3022, XL3025, XL3027, XL3030, XL3100, XR31, XR33, XR34, XR35, XR37, XR40, PL1600, PC8895
Euro Pro: 9101
Viking: 560ED, 900, 1000, 1000L, 1002LCD, 1003LCD
Riccar: RL749L & R3200
Simplicity: SL4900L, SE1, SE2, SL4690L, SL9240
White: W3300
ADD BASIC S&H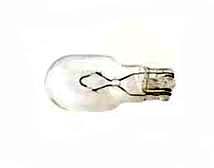 Light Bulb 8 Volt #50228001 (SA105)***
$0.00
***Temporarily Out of Stock*** please reorder when this message has been removed from the web site.
8 Volt, 2.4 Watt/3AK (Stanley)
Bulb for the Brother 940, 950, 970 Please note Brother light unit/switch X50227001/X50809001 is obsolite
Brother PE100, PE150
Viking 650ED, 660CD, 680CD, 1000, 1000L, 1001L
Sonata 6621, BabyLock 2400 and other machines requiring 8 volt, 2.4 watt/3AK
ADD BASIC S&H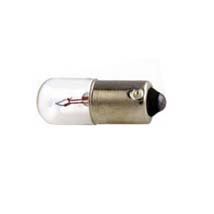 Light Bulb (push turn) #411 86 47 02 (PD)
$3.95
12 volt, 5 watt small glass
Fits: Viking 6690 series, some sergers.
Pfaff 2030, 4870
Sonata Compu-sew #6680C
Push-turn to remove and replace
ADD BASIC S&H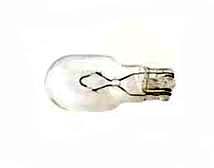 Husqvarna Viking " Sapphire" Light Bulb 413 18 18-02
$8.95
24 Volt, 5 Watt
Fits: Viking "Sapphire" models 830, 835, 850, 855, 870, 875, Topaz and other machines requiring this typr bulb.
ADD BASIC S&H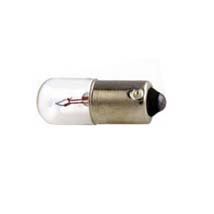 Bernina Light Bulb #3055000G
$5.95
6 volt, 4 watt
Fits Bernina: 1020, 1030, 1031, 1080, 1090, 1100, 1113, 1120, 1130, 1230, 1260, 1530, 1600 & 1630, 2000 serger
Order two or more bulbs and we will send you a tube FREE which will make it easier for you to remove and replace the bulb.
ADD BASIC S&H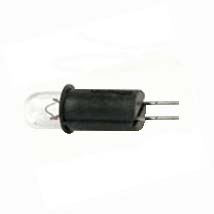 Singer Light Bulb #386958***
$0.00
***Temporarily Out of Stock*** please reorder when this message has been removed
12 volt, 3 watt hologen
Fits: Singer XL1000
ADD BASIC S&H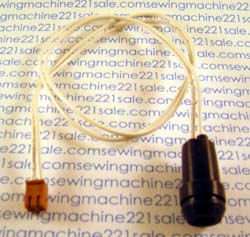 Light Socket #387005
$8.95
Singer light socket ONLY without bulb #386958
Fits: Singer Quantum DSX and Quantum XL1000.
ADD BASIC S&H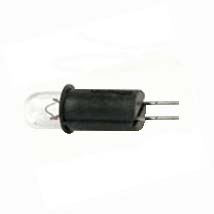 Singer Light Bulb #387346
$16.95
13.5 volt, 3 watt hologen
Fits: Singer XL5000, Elna 9010 Exquisite
ADD BASIC S&H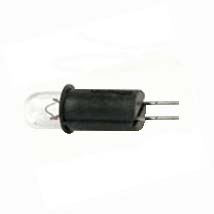 Singer Light Bulb #085303
$14.95
Fits: Izek, Quantum Futura, CE100, CE200
ADD BASIC S&H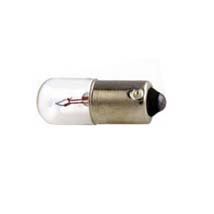 Singer Light Bulb HP31082
$9.95
Fits Singer XL3400
ADD BASIC S&H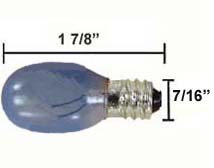 Blue Bulb #B7501-03A (643blue)
$5.95
110v 15watt
Blue bulb 7/16 screw-in (643/7SCW)
Bulb is blue in color giving off real sunlight effect.
Originally used by Babylock, however can be used on all machines using the 7/16 screw-in #643.
ADD BASIC S&H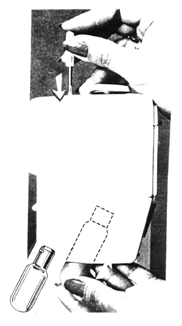 Elna Light Bulb #672 (444110)(T20X64)(R22X57)(MATTB15D)(T-7)
$4.95
120Volt 15Watt
2 1/2" in length
Elna: Elna Star 11, 13, 21, 23, 31, 33, 41, 43, 62, 64, 72, 74, Lotus 14, 22, 24, 32, 34, 35, 36, 52, Carina SU, Jubilee 45, 46, 55, 56, 65, 66, 500, Stella 17, 22, 27, 37, 57, Air Eletronic 38, 39, 58, 59, 68, 69
Brenina: 817, 830, 930
To remove bulb press down with a small screw driver to make the bulb protrude below the casing, push bulb in and turn.
ADD BASIC S&H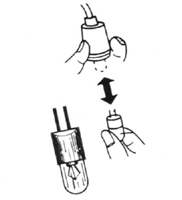 New Home / Elna / Kenmore Pin Type Light Bulb #MC8000HL1
$18.95
(395722-99)(000009917)(000009906)
Small 2 pin bulb, 12 volt 3 watt
Fits many New Home models: 3000, 3005, 3007, 4000, 4800QC, 5124, 5700, 6003, 6004, 8000, 9000, 10000, 10001
Elna: 3005, 3007, 6003, 6004, 8006, 9006, 9010E, CE20
Kenmore: 385.19000, 385.09001, 385.19010, 385.19030, 385.19150090, 385.19153, 385.19153690, 385. 19157, 385.19157100, 385.19365, 385.19365991, 385.19365,
ADD BASIC S&H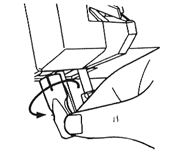 Singer Bulb Remover #350907
$3.95
Singer bulb remover (extractor)
For model 14U595, bulb #350812 and other models requiring this system.
ADD BASIC S&H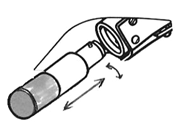 Light Bulb (large) Extractor #412 32 75-01
$3.95
Light bulb extractor for medium and large bulbs.
Each end is of a different size (5/8" or 3/4") fits bulbs such as 676, 670, 658, 643.
Place the bulb extractor over the glass portion to protect you fingers and make it easier to remove and replace bulb.
ADD BASIC S&H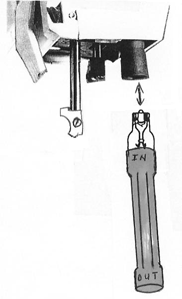 Light Bulb (small) Extractor #412 57 01-01 (412 3556-01)
$3.95
Light bulb extractor for small bulbs.
This extractor is 2" long for reaching into small/tight areas.
One end is for inserting the bulb, the other is for extracting the bulb.
Light bulbs that this extractor will fit: 411 78 10-03, 979603-001, 411 86 47-02, X50228-001, 50228-001, 388329.
Light bulbs that this extractor will NOT fit: 3055000-G, MC800HLI, 085303, 387346, 386958.
ADD BASIC S&H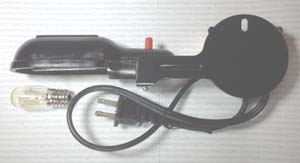 Singer Light #B428 (618M)
$18.95
Replacement for older style Singers and other 15 class (HA-1) style machines. Also fits 66 class.
Mounts behind round access plate in rear of the machine.
This light cord has electric plug for terminal box #700, however plug can be cut off for direct wiring depending on your machine set up. If you are not comfortable with direct wiring please take your part and machine to your nearest certified sewing machine technician.
Comes with bulb #658.
This item is large in size. Choose $8.95 for the S&H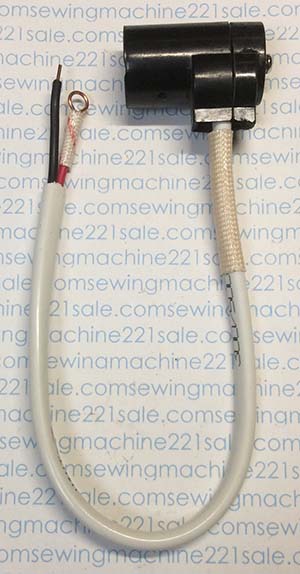 Light Socket #87290 (193911)
$32.95
Fits: Singer 221, 222, 201
Comes with approximately 9 1/2" of wire, some models may require you to extend this wire longer.
For use with light bulb #676, 15 watt, 120 volt (USA).
ADD BASIC S&H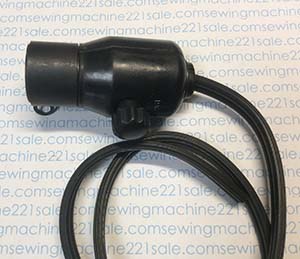 Light Socket #196221
$32.95
Fits: Singer 301, 401, 403, 404, 500, 503
Light socket with switch.
Comes with approximately 18" of wire
For use with light bulb #676, 15 watt, 120 volt (USA).
ADD BASIC S&H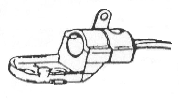 Light Socket #619131 (603809-002)
$23.95
Fits: Singer 600, 620, 630, 639, 640, 648, 649 series.
In some cases it may be necessary to use your old mounting bracket.
ADD BASIC S&H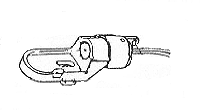 Light Socket #619386
$28.95
Fits: Singer 714, 717, 719, 724, 733, 734, 750, 750, 770, 774, 776, 775, 900, 920, 925, 1030, 1036
In some cases it may be necessary to use your old mounting bracket.
ADD BASIC S&H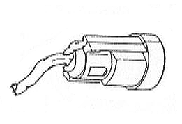 Light Socket #605488-015
$19.95
Fits: Singer 4552, 6201/2, 6211/12/15/17 and other vertical needle machines
ADD BASIC S&H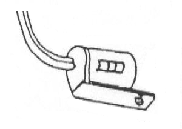 Light Socket #988728-001
$0.00
NO LONGER AVAILABLE
Fits: Singer 4610/3/7/23, 5910, 6233/4/5, 6267/8, 9900, 9113/7/24, 9130/2/4/43, 9217/24/40, 9416/30 and others
ADD BASIC S&H



Light Socket #604574-001
$17.95
Fits: Singer 2000
ADD BASIC S&H



Brother Light Socket #XA105905A
$12.95
Fits Brother VX1120, VX1125, VX1140, XL3010 and many others.
Picture may vary slightly
"Takes bulb #643 SOLD SEPARATELY".
ADD BASIC S&H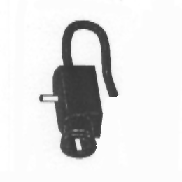 Light Socket #4676 (74315)
$16.95
Light socket with switch and a 32" lead wire designed to be cut to fit
Fits most Japanese machines.
Use Light Bulb #643 sold separately.
ADD BASIC S&H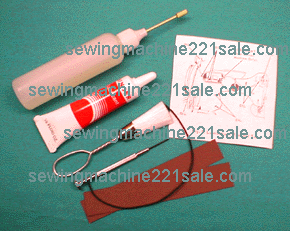 Operator Maintenance Kit
$12.95
*High quality oil in refillable extendable spout. Long neck spout style of oiler #NK2 may vary depending on availability.
*Lubricant for gears
*Lint brush
*Extra fine quality screw driver for tension adjustments
*2 strips of crocus cloth for removing burs on hook, etc.
*6" abrasive cord #52 for removing burs in and around needle plate, etc.
*Oil and lubricant instructions pamphlet for various models
ADD BASIC S&H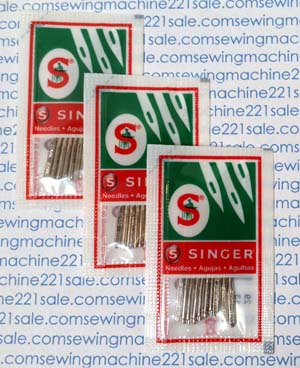 Singer Needles - 3 Pack 11-14-16 "ON SALE NOW"
$11.95
Regular price $14.85
Three packs of needles 10 per pack.
One 10 pack of size 11 for light weight fabrics.
One 10 pack of size 14 for medium weight fabrics.
One 10 pack of size 16 for heavy weight fabrics.
Singer "TOP QUALITY" needles with sharp points for maximum needle power penetration, hardened for durability, polished for smooth operation and less heat build up.
Singer needles for Singer and most other sewing machines.
Packaging may vary depending on present inventory.
ADD BASIS S&H


Free Motion Guide Grip
$39.95
Fits ALL machines.
No need to place your fabric in a hoop for free-motion sewing. Place on top of fabric for free-motion, quilting, embroidery or monogramming. The friction surface on the underside of the guide grip holds the fabric taut and provides handles for moving the fabric. Set your machine for normal free-motion sewing according to your operators manual.
Note: For free-arm models works best with your sewing machine extension plate attached.
Some fabrics especially light weight fabrics may require a stabilizer. Some projects may require the conventional two piece wood hoop.
NOTE: For additional information click on this link "How to do Free Motion Sewing"
This item is Freight Intensive (F/I), $8.95 is the basic S&H for ALL Freight Intensive (F/I) items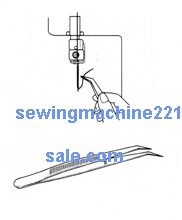 Tweezers #TWE6
$3.95
Top quality tweezers with guide pin
6" long with bent point design.
The best tool in your accessory box. Ideal for threading needles on sewing machines and needles and loopers on sergers. Many other practical sewing uses: removing thread and lint build-up from small areas in the sewing machine, pulling out unwanted stitches, etc.
ADD BASIC S&H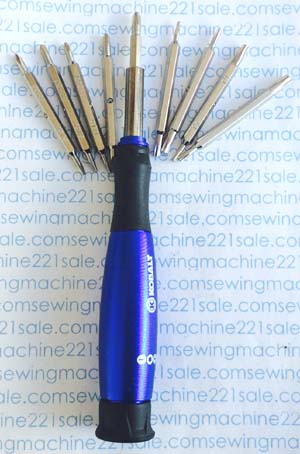 Mini Precision Screwdriver Set (Bin T-4)
$9.95
Small compact set includes compact bit holder or store bits in handle
Set includes: Slotted: 1/8", 3/32", 5/64", 5/64", 1/16"
Phillips: PH000, PH00, PH00, PH0, PH1
Torx star: T4, T5, T6, T7, T8, T9, T10, T15
ADD BASIC S&H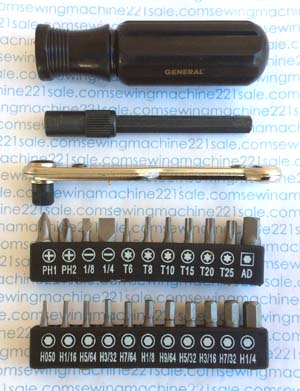 Small Tools, Driver Set with Offset Ratchet (Bin-T-1)
$17.95
Sewing machine and other small appliances require different tools than your car or home
This set is a great place to start
Set contains one each: reversible ratchet handle, spinner screwdriver handle, 3 1/4" extension handle
One each of the following bits
Slotted screwdriver: 1/8", 1/4"
Phillips screwdriver: PH#1, PH#2
Hex: .050", 1/16", 5/64", 3/32", 7/64", 1/8", 9/64", 5/32", 3/16", 7/32", 1/4",
Torx: T6, T8, T10, T15, T20, T25
ADD BASIC S&H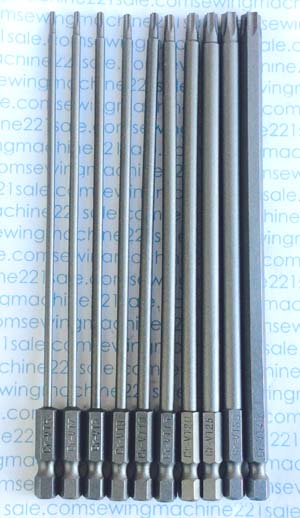 Torx Bit Set 5" Long with Thin Shaft (Bin T-2)
$16.95
Sewing machine and other appliances require a long thin shaft for getting into confined areas
5" long with a standard 1/4" hex shaft
Set includes one each: T6, T7, T8, T9, T10, T15, T25, T30, T40
ADD BASIC S&H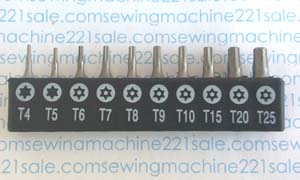 Torx Bit Set Small (Bin T-3)
$13.95
Hard to find Torx bits, standard 1/4" hex shaft
Set includes: T4, T5, T6, T7, T8, T9, T10, T15, T20, T25
ADD BASIC S&H




We sell hundreds of parts a day all over North America. Our number one goal is to provide our customers with functional working replacement parts at the most competitive prices. There have been many sewing machine manufacturers over the years, most of course no longer exist and most companies no longer manufacture their own replacement parts.
Most of our replacement parts are new and after market parts, some used or refurbished depending on availability. We must rely on many sources to fill the tremendous need. Our choices are always made with your satisfaction in mind...
John



Email: sewingmachine221sale@pop.bizland.com
This web site is owned and operated by:
Discount Sewing Machine Service ©2000
Site contains material that are trademark TM and servicemark SM.
All material is for personal use only and is not to be mass produced.
Pages constructed and maintained by Kas