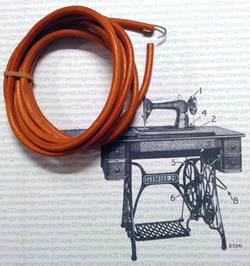 Treadle Leather Belt with Metal Hook #804-M/W (965512)(#8)
$10.95
The highest quality leather treadle belt available.
Fits all treadles Singer and non-Singer. Comes 3/16" diameter X 72" long with clip. Designed to be cut to fit.
Comes with FREE instructions on "How to shorten or replace a leather treadle belt". Eight step method for proper routing, measuring, cutting and adjusting of a treadle belt.
For additional important information on adjusting the treadle mechanism/stand see "Sewing Machine Maintenance Manual (1944)".
ADD BASIC S&H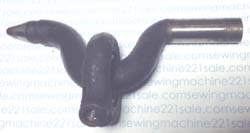 5A-M Wheel Driving Crank
$32.00
Crank ONLY, does not come with the pitman rod as viewed in schematic.
The metal pitman rod (SOLD SEPERATELY) screws into the crank>
F/I $8.95 EACH S&H




5A-W Wheel Driving Crank
$32.00
Crank ONLY, does not come with the pitman rod as viewed in schmetic.
F/I $8.95 EACH S&H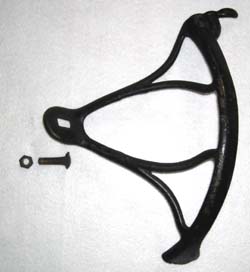 7 Skirt Guard Complete
$68.00
Includes skirt guard #7, shifter with spring and screw. Mounting nut and bolt (14).
Special Note: Skirt guard #7 as viewed in (schematic) is not the same as the skirt guard we will be shipping you.
The skirt guard you will receive is the actual photograph attached, this guard mounts in the center portion of the guard as viewed.
No other skirt guard is presently available
Choose F/I $15.00 S&H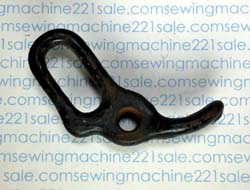 7 A-M Belt Shifter ONLY #46525****

$0.00
****SOLD OUT****
Belt shifter ONLY.
Spring and screw no longer available (NLA).
Belt shifter mounts on skirt guard.
To shift belt on and off belt wheel.
ADD BASIC S&H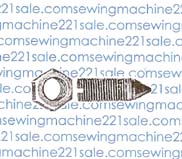 9 A-B-C- M/W Centering Screw with Nut
$18.00
Centering screw with nut designed to allow a small amount of movement between attaching parts
The screw is approx. 1 5/8" long
"ORIGINAL" no longer available as new - removed from a cabinet in our inventory
Line art is a reasonable facsimile
ADD BASIC S&H




11 M/W Screws to Attach Metal Stand to Wooden Cabinet
$5.95
Sold seperatly $5.95 EACH
ADD BASIC S&H




12-M Belt Guide
$28.00
$5.95 EACH for S&H




12-W Belt Guide
$28.00
$5.95 EACH for S&H




13-M Belt Guide Screw
$8.95
BASIC S&H




13-W Belt Guide Nut & Blot
$12.95
BASIC S&H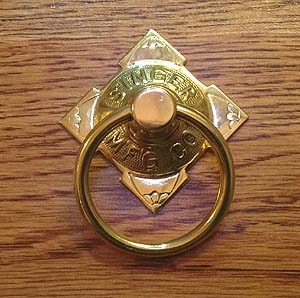 "Singer Mfg. Co." Sewing Machine Treadle Cabinet Drawer Pull #185286
$24.95
Vintage reproduction "Singer Mfg. Co." drawer pull, polished brass
Back plate measures approximately 2" diagonally (same as original). From to top of plate to bottom of ring is approximately 2 1/2"
Comes with mounting screw (approximately 3/4" long) with nut
ADD BASIC S&H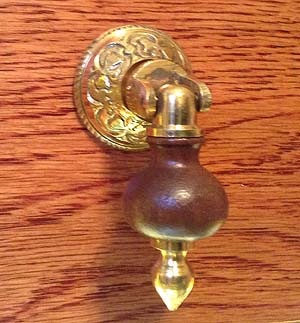 Sewing Machine Treadle Cabinet Drawer Pull "Tear Drop" #185287
$12.95
Vintage reproduction "Tear Drop" drawer pull, polished brass and wood
Back plate measures approximately 1 3/8" diameter.
From to top of plate to bottom of tear drop is approximately 2 1/4"
Comes with mounting screw (approximately 3/4" long) with washer
ADD BASIC S&H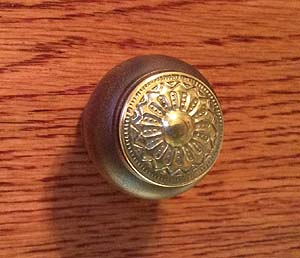 Sewing Machine Treadle Cabinet Drawer Pull "Round" #185288
$11.95
Vintage reproduction "Round" drawer pull, polished brass and wood Round wood ball approximately 1 1/8" diameter, depth approximately 1 1/8".
Screw with nut (approximately 1 5/8" long)
Also a good choice for thread spool cabinets
ADD BASIC S&H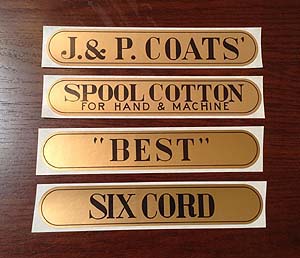 "J. & P. COATS" Spool Cabinet Decals (set of 4) #185289
$14.95
Sold as a set of 4 as viewed ($14.95 set)
Reproduction decals for J. & P. Coats spool cabinets.
Each decal is approximately 9 1/2" by 1 3/4".
Peel and stick.
Also a good choice for your J. & P. COATS spool cabinet are the "Round" drawer pulls #185288 above.
ADD BASIC S&H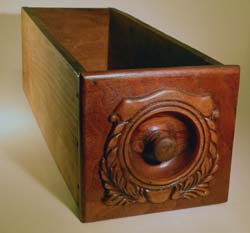 Singer Wood Embossed Drawer
$38.00
$38.00 for one drawer
Very Limited Supply... ONLY 2 available...
Original Singer wood embossed drawer from the cabinet table model #6 (dated approx. 1913).
Measures Approx: length front to back 12 5/8", 4" tall, width 4 3/8".
This drawer may fit other cabinets or may be used as a 100 year old treasured item.
Shipping for each drawer is $6.95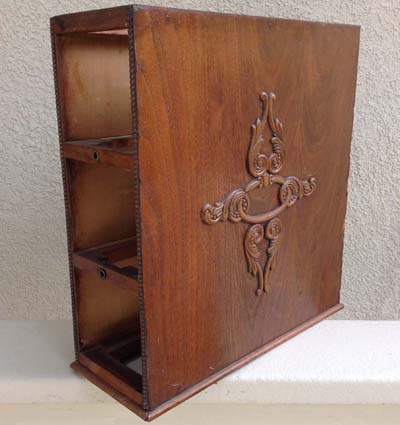 Singer Cabinet Saddle Right Side - No Drawers Oak****

$0.00
****SOLD OUT****
Singer three drawer cabinet saddle with no drawers
Right side saddle ONLY. The embossed design will only be on the outer exposed side of the saddle
This item is at least 100 years old, it is in good shape however may show some sign of its age
This item is Freight Intensive (F/I) the S&H within the continental US is $15.00 it does NOT qualify for FREE S&H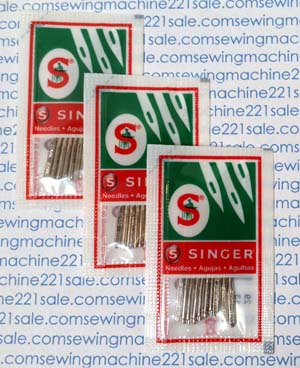 Singer Needles - 3 Pack 11-14-16 "ON SALE NOW"
$11.95
Regular price $14.85
Three packs of needles 10 per pack.
One 10 pack of size 11 for light weight fabrics.
One 10 pack of size 14 for medium weight fabrics.
One 10 pack of size 16 for heavy weight fabrics.
Singer "TOP QUALITY" needles with sharp points for maximum needle power penetration, hardened for durability, polished for smooth operation and less heat build up.
Singer needles for Singer and most other sewing machines.
Packaging may vary depending on present inventory.
ADD BASIS S&H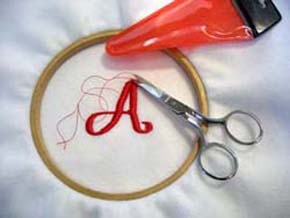 4 Inch Embroidery Scissors
$6.95
4" embroidery scissors
Fine sharp point ideal for close work in small areas
CAUTION: As in most cutting instruments the point and blades are sharp and should be handled ONLY by adults for cutting and craft use.
ADD BASIC S&H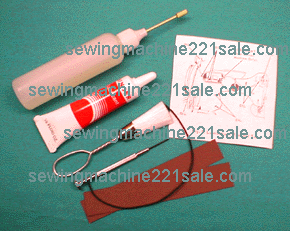 Operator Maintenance Kit
$12.95
*High quality oil in refillable extendable spout. Long neck spout style of oiler #NK2 may vary depending on availability.
*Lubricant for gears
*Lint brush
*Extra fine quality screw driver for tension adjustments
*2 strips of crocus cloth for removing burs on hook, etc.
*6" abrasive cord #52 for removing burs in and around needle plate, etc.
*Oil and lubricant instructions pamphlet for various models
ADD BASIC S&H




1-M Left Metal Leg (without rollers)**** NLA
$0.00
OUT of STOCK





2-M Right Metal Leg (without rollers)**** NLA
$0.00
OUT of STOCK





2-M Right Metal Leg (with rollers)**** NLA
$0.00
OUT of STOCK





1-W Left Metal Leg (without rollers)**** NLA
$0.00
OUT of STOCK





2-W Right Metal Leg (without rollers)**** NLA
$0.00
OUT of STOCK





1-W Left Metal Leg (with rollers)**** NLA
$0.00
OUT of STOCK





2-W Right Metal Leg (with rollers)**** NLA
$0.00
OUT of STOCK





3-M Center Brace with "SINGER" Name**** NLA
$0.00
OUT of STOCK





3-W Center Brace Plain**** NLA
$0.00
OUT of STOCK





3-W Center Brace with "SINGER" Name**** NLA
$0.00
OUT of STOCK





1-M Left Metal Leg (with rollers)**** NLA
$0.00
OUT of STOCK





4-M Belt Wheel**** NLA
$0.00
OUT of STOCK





4-W Belt Wheel**** NLA
$0.00
OUT of STOCK





5-M Metal Pitman Rod ONLY**** NLA
$0.00
OUT of STOCK
Rod approximately 10 1/2" to 11" in length.
Comes with nut and ball joint to bolt it to the treadle plate.
Does NOT come with "Wheel Driving Crank" as viewed in the parts schematic.
$5.95 EACH S&H




5-W Wood Pitman Rod**** NLA
$0.00
OUT of STOCK
Some wood pitman rods were 16" in length (it's possible this length was the early models without "Singer" name on the center brace 3-W.
Some wood pitman rods were 14" in length (it's possible this was the later models with "Singer" name on the center brace 3-W.
Does NOT come with "Wheel Driving Crank" as viewed in the parts schematic.
F/I $5.95 EACH S&H




6-M Foot Treadle****NLA
$0.00
OUT of STOCK
F/I $15.00 S&H EACH




6-W Foot Treadle****NLA

$0.00
OUT of STOCK
F/I $15.00 EACH S&H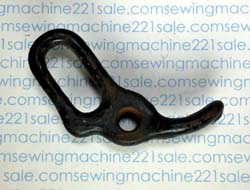 7 A-W Belt Shifter
$38.00
BASIC S&H




7 B-M/W Shifter Spring**** NLA
$0.00
OUT of STOCK





7 C-M/W Shifter Screw**** NLA

$0.00
OUT of STOCK
BASIC S&H



10 M/W Screws to Attach Legs to Center Brace**** NLA****
$0.00
****No Longer Available****
1 3/8" long, diameter approximately 3/8", thread 18-096
This was a special made screw by Singer that screwed into the casting. We have not been able to find a replacement. Best recourse is to purchase a nut (lock nut) and bolt that will go all the way through the casting, this should be readily available at your local hardware store.





14-M/W Skirt Guard Mounting Nut & Bolt****NLA
$0.00
No Longer Available
BASIC S&H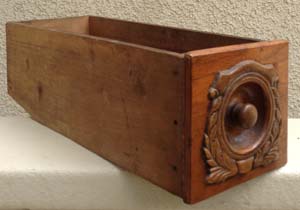 Singer Wood Embossed Drawer Oak
$38.00
Very Limited Supply...
Original Singer wood embossed drawer from the cabinet table model #6 (dated approx. 1913)
Measures Approximately: length front to back 12 5/8", 4" tall, width 4 3/8"
This drawer may fit other cabinets or may be used as a 100 year old treasured item
Shipping for each drawer is $8.95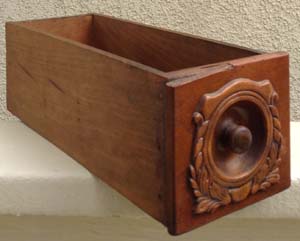 Singer Wood Embossed Drawer Oak
$38.00
Very Limited Supply...
Original Singer wood embossed drawer from the cabinet table model #6 (dated approx. 1913)
Measures Approximately: length front to back 12 5/8", 4" tall, width 4 3/8"
This drawer may fit other cabinets or may be used as a 100 year old treasured item
Shipping for each drawer is $8.95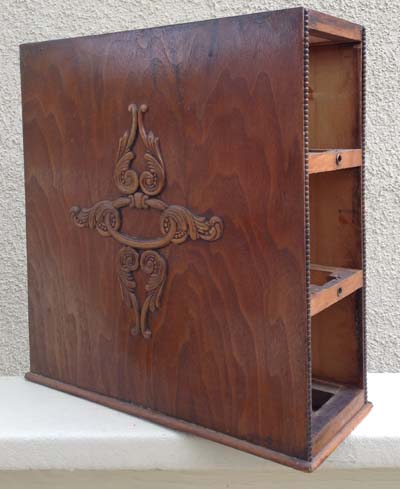 Singer Cabinet Saddle Left Side - No Drawers Oak
$49.95
Singer three drawer cabinet saddle with no drawers
Left side saddle ONLY. The embossed design will only be on the outer exposed side of the saddle
This item is at least 100 years old, it is in good shape however may show some sign of its age
This item is Freight Intensive (F/I) the S&H within the continental US is $15.00 it does NOT qualify for FREE S&H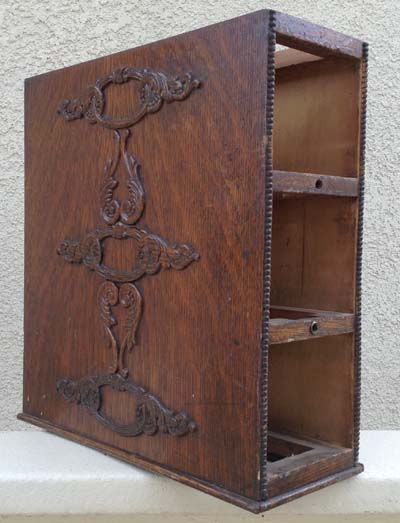 Singer Cabinet Saddle Left Side - No Drawers Walnut
$49.95
Singer three drawer cabinet saddle with no drawers
Left side saddle ONLY. The embossed design will only be on the outer exposed side of the saddle
This item is at least 100 years old, it is in good shape however may show some sign of its age
This item is Freight Intensive (F/I) the S&H within the continental US is $15.00 it does NOT qualify for FREE S&H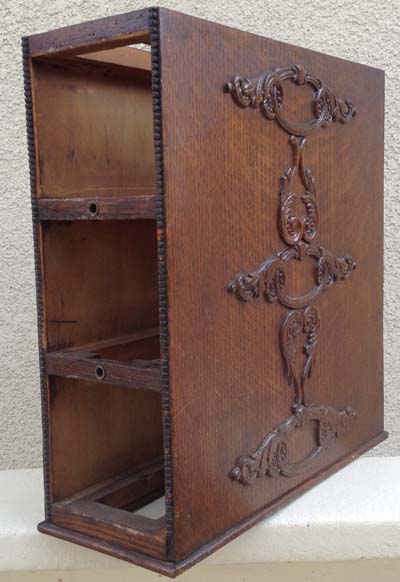 Singer Cabinet Saddle Right Side - No Drawers Walnut
$49.95
Singer three drawer cabinet saddle with no drawers
Right side saddle ONLY. The embossed design will only be on the outer exposed side of the saddle
This item is at least 100 years old, it is in good shape however may show some sign of its age
This item is Freight Intensive (F/I) the S&H within the continental US is $15.00 it does NOT qualify for FREE S&H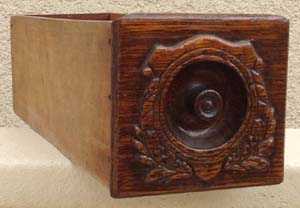 Singer Wood Embossed Drawer Walnut
$38.00
Very Limited Supply...
Original Singer wood embossed drawer from the cabinet table model #6 (dated approx. 1913)
Measures Approximately: length front to back 12 5/8", 4" tall, width 4 3/8"
This drawer may fit other cabinets or may be used as a 100 year old treasured item
Shipping for each drawer is $8.95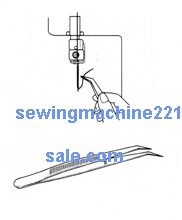 Tweezers #TWE6
$3.95
Top quality tweezers with guide pin
6" long with bent point design.
The best tool in your accessory box. Ideal for threading needles on sewing machines and needles and loopers on sergers. Many other practical sewing uses: removing thread and lint build-up from small areas in the sewing machine, pulling out unwanted stitches, etc.
ADD BASIC S&H